How many kinds of pyrolysis plants are there? How to choose a suitable one?
Pyrolysis Plant is a popular machine for recycling municipal solid waste like waste tires and plastic. Up to now, there are mainly two kinds of pyrolysis plant on the market, batch type pyrolysis plant and fully automatic continuous pyrolysis plant.
Then how to choose the most suitable pyrolysis plant? Please go on reading the pyrolysis plant introduction to find the answers.
1. Batch type waste tire/plastic pyrolysis plant
Batch type waste tire/plastic pyrolysis plant has a simple structure, one machine with multiple functions, and can process waste plastics, waste rubber tires, oil sludge, coal tar oil, etc., the process time is one day one batch, the feeding method is the whole tire, and the operation is flexible and adaptable. And the reactor is in a cold-hot-cold alternating state.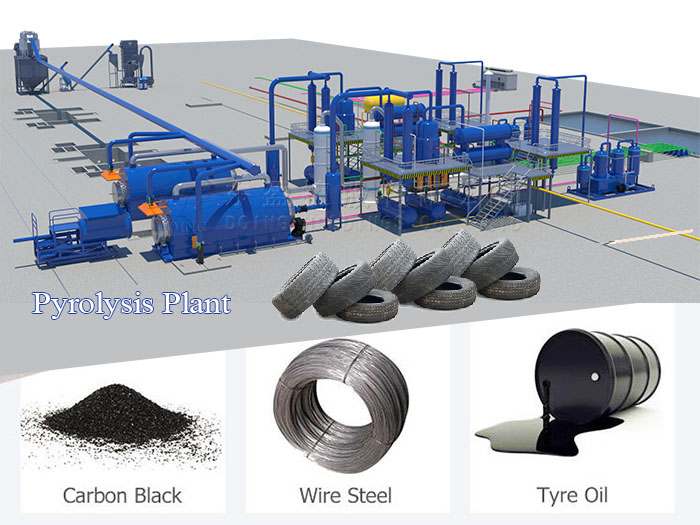 The batch type waste tyres pyrolysis plant picture
The processing capacity of a single batch pyrolysis machine is from 100kg to 15 tons. This kind of batch pyrolysis plant is the hot and cost effective choice for the customers who just entered the pyrolysis industry and has lower requirements for the labor intensity.
2. Fully automatic continuous waste tire/plastic pyrolysis plant
Compared with the batch type, the single production line processing capacity of the continuous type is large, and it can handle from 15-50tpd of rubber powder. While feeding and discharging at the same time, continuous operation saves labor costs and improves efficiency. The entire production is under sealed conditions operation, completely avoiding the danger of open feeding and slag discharge; using indirect heating to avoid direct contact between the reactor and the furnace, prolonging the life of the reactor; continuous operation relies on intelligent control, making the production operation accurate, stable and labor-saving.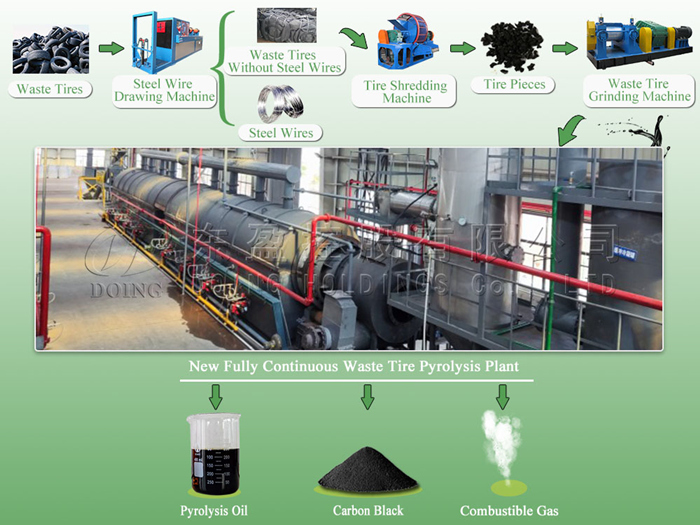 The continuous pyrolysis plant picture
The fully automatic continuous waste tire/plastic pyrolysis plant is suitable for customers who have big investment and high automatic control requirements.
Henan Doing specializes in manufacturing waste tire/plastic pyrolysis plant and related waste engine oil/pyrolysis oil to diesel distillation plant, etc. 12+ years of technical precipitation have enabled us to have strong research and development capabilities and equipment manufacturing capabilities. We have been providing various pyrolysis plants and related solutions. Welcome to contact us for enquiry and visit the factory for cooperation.
Leave A Message
Please feel free to leave your contacts here and your privacy is protected. A competitive quotation will be provided according to your detailed requirement within one business day.