What can be used in pyrolysis plant to heat the pyrolysis reactor?
Raw materials such as waste tires, waste plastics, and waste oil sludge can produce valuable products such as pyrolysis oil, carbon black, combustible gas, etc. under the action of high-temperature pyrolysis in pyrolysis plant. So what does the pyrolysis plant use to heat the pyrolysis reactor and supply energy for it?
DOING factory waste pyrolysis plant
DOING pyrolysis plant can use various fuels such as fuel oil, natural gas, coal, wood and biomass pellets as heat sources to heat pyrolysis reactor, so as to meet customers' diversified production needs while saving energy and reducing consumption. And the heat source adopts indirect heating method, which will not directly contact the furnace body, and the service life of the pyrolysis reactor is longer.
In addition, the combustible gas produced by pyrolysis of waste tires, plastics and other products can be used as heating fuel and returned to the pyrolysis reactor furnace for heating after purification. Therefore, fuel oil, natural gas, coal, wood and biomass pellets can be used for the initial heating of pyrolysis plant. When the temperature of the pyrolysis reactor furnace rises to 200-380°C and stable oil gas production begins, the pyrolysis reactor can use the combustible gas for heating uses. In this way, fuel costs can also be saved, and the effect of energy saving, consumption reduction and emission reduction is remarkable.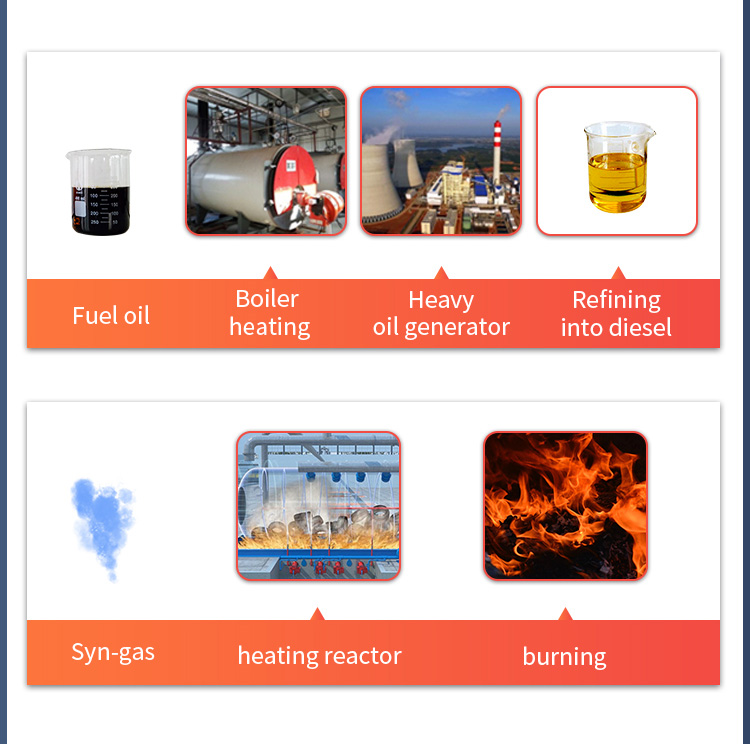 The applications of pyrolysis plant final product
Of course, pyrolysis plant can also use extracted pyrolysis oil for heating, which has a high calorific value and requires less consumption. Taking waste tire pyrolysis plant as an example, the general consumption of processing 10 tons of waste tires is about 400 kg. In addition, in order to ensure that the material is heated evenly, the heat conduction efficiency is high, and the pyrolysis rate is more complete, the rotation system in the inner tank of DOING pyrolysis plant furnace uses a 4kw reducer with a speed ratio of 48.57 to heat the inner tank of the pyrolysis reactor furnace evenly at a speed of 150 seconds per circle. The pyrolysis technology is more complete and the oil yield is high.
Henan Doing Environmental Protection Technology Co., Ltd.is a comprehensive environmental protection equipment manufacturing enterprise integrating process design, technology research and development, production and manufacturing, installation and commissioning, sales and after-sales service. It continuously improves equipment technology and production technology, and our waste tire plastic pyrolysis plant has been sold well in more than 100 countries and regions around the world. It is well received and praised by the majority of users.
Leave A Message
Please feel free to leave your contacts here and your privacy is protected. A competitive quotation will be provided according to your detailed requirement within one business day.