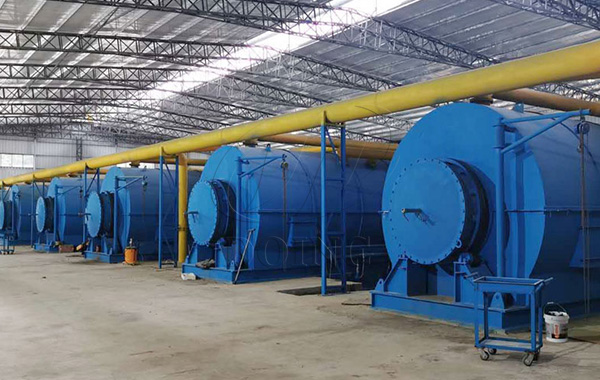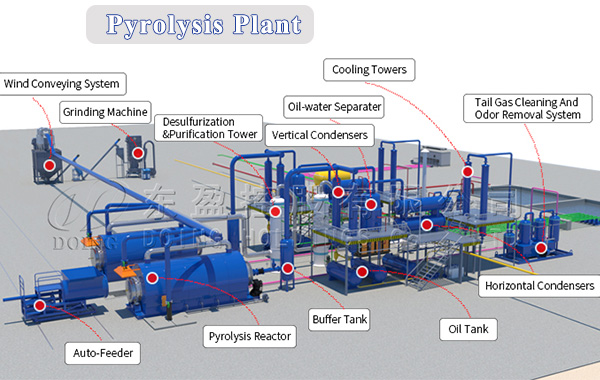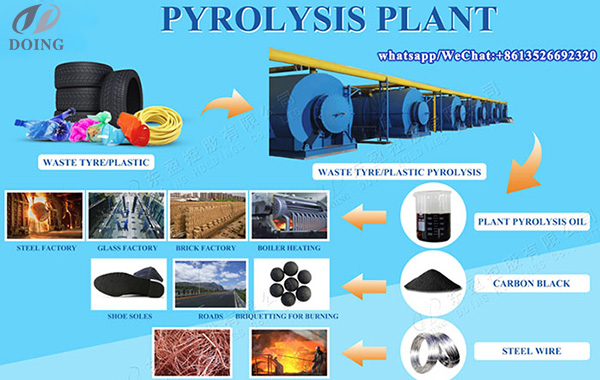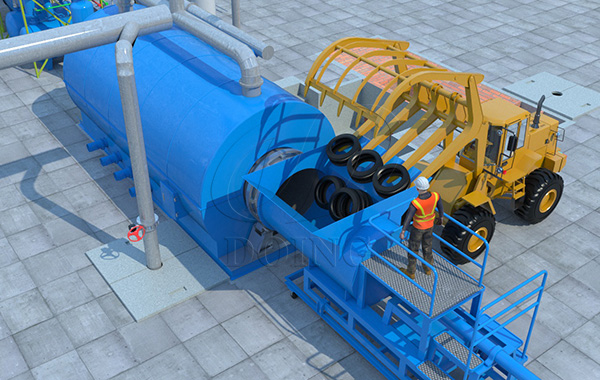 Pyrolysis plant is the hot-sale product in DOING company. Our waste pyrolysis plant can pyrolyze many kinds raw material into fuel oil and carbon black, such as waste plastics, waste tyres, waste rubber, medical waste. It can also extract fuel oil from oil sludge. So pyrolysis plant for waste is also called other names: waste tyre pyrolysis plant, waste plastic pyrolysis plant, oil sludge pyrolysis plant, plastic to oil machine, tyre to oil plant, etc. DOING pyrolysis plant not only has a high oil yield, but also the operation process is safe and environmentally friendly. It has been sold to more than 60 countries and regions.
Processing Capacity: 1T/6T/10T/12T/15T, custom
End Products: Pyrolysis oil, carbon black
Core Components: Pyrolysis reactor, condenser
Certificates: CE, ISO, SGS
Email:

Phone/WhatsApp/WeChat:

+86-135-2669-2320
http://192.168.88.67:150/Pyrolysis/
DOING Pyrolysis Plant for Difffernet Raw Materials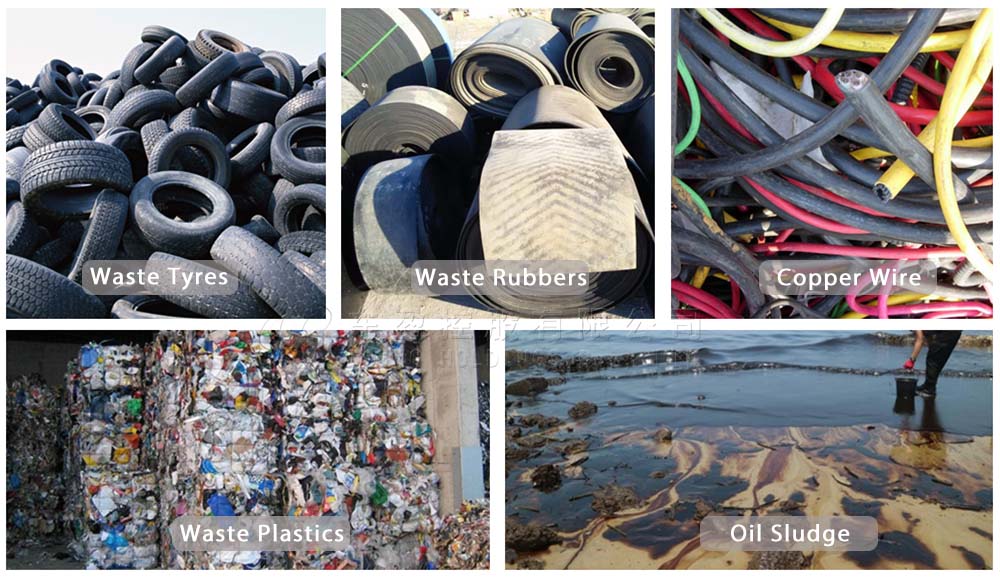 Working Process of Pyrolysis Plant
1. Feeding

Feed raw materials into the reactor and rotate the reactor clockwise, then seal the inlet door to ensure no gas leakage.

2. Heating

Heat the pyrolysis reactor slowly with heating materials. When the temperature reaches a certain degrees, the raw material will be pyrolyzed and produce oil gas.

3. Cooling

Oil gas from the reactor will enter the condensing system, which is cooled down to liquid oil. Then collect liquid oil by the storage tank. Gases that cannot be liquefied under normal pressure will be recovered to the combustion system through a safety device.

4. Slagging

After the liquid oil is collected, the reactor temperature will decrease. When the temperature drops to about 40 degrees, we can expel carbon black, steel wire or soil.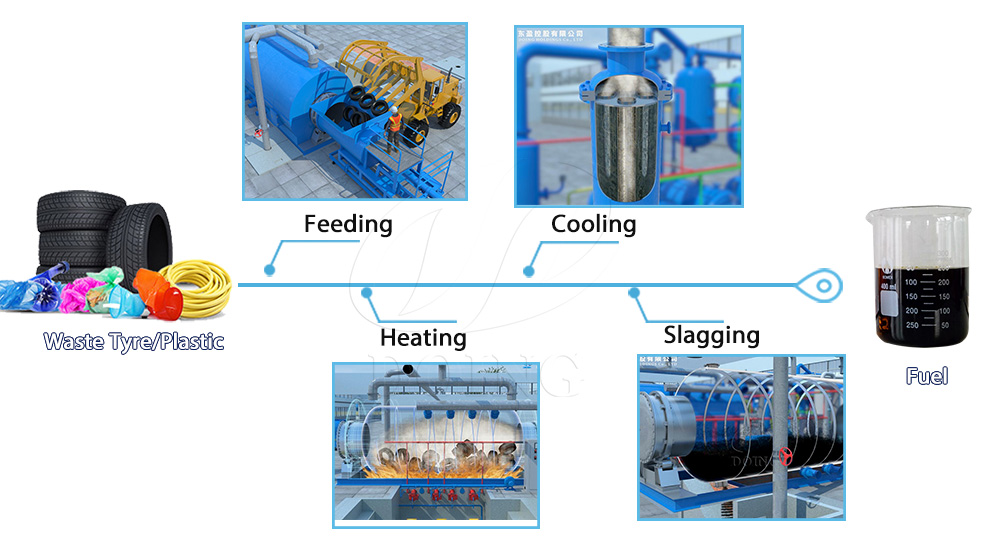 Technical Parameter of Pyrolysis Plant
No.
Items
Contents
1
Equipment type
DY-1-6
DY-1-10
DY-1-12
2
Raw material
Waste tire
Waste tire
Waste tire
3
Structural form
Horizontal rotation
Horizontal rotation
Horizontal rotation
4
24-hour Capacity
6 ton
10 ton
12 ton
5
Oil yield
2.7-3.3ton
4.5 -5.5ton
4.8 -6.6ton
6
Operating pressure
Normal
Normal
Normal
7
Material of pyrolysis Reactor
Q245R
Q245R
Q245R
8
Thickness of pyrolysis Reactor
16mm
16mm
16mm
9
Rotate speed of pyrolysis Reactor
0.4turn/minute
0.4turn/minute
0.4turn/minute
10
Total power
15KW
15KW
15KW
11
Mode of cooling
Water cooling
Water cooling
Water cooling
12
Cooling area of condenser
100sqm
100sqm
100sqm
13
Kind of transmission
Internal gear drive
Internal gear drive
Internal gear drive
14
Noise dB(A)
≤85
≤85
≤85
15
Size of Reactor(D×L)
2200×6000
2600×6600
2800×6600
16
Working form
Intermittent operation
Intermittent operation
Intermittent operation
17
Delivery time
20days
20days
20days
18
Weight
27T
32T
35T
Technical Advantages Parts of DOING Pyrolysis Plant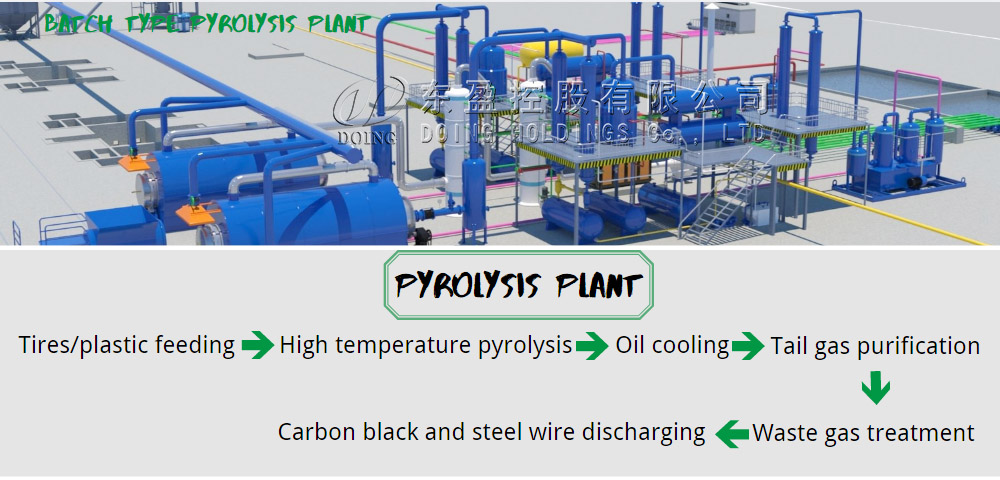 1. Safety

DOING pyrolysis plant is equipped with mature safety devices, such as thermometers, pressure gauges, safety valves, electronic control systems. These safety devices can monitor the operation of pyrolysis plant at any time, and can ensure the accuracy and safety of operation.

2. Energy saving

Combustible gas that cannot be liquefied under normal pressure can be recycled and used as fuel to heat the reactor. The reuse of this gas can save fuel costs in the production process of pyrolysis plant.

3. Environmental protection

All parts of pyrolysis plant sealed well, and will not leak. The flue gas produced in the production process is also treated by the smoke cleaning system(include tail gas cleaning and odor removal system and desulfurization & purification tower) to ensure that the exhaust smoke is pollution-free.

4. High oil yield

DOING condensing system adopts three-stage condensation, which has better cooling effect and can improve oil yield. In addition, our engineers have extensive experience in equipment operation and can achieve high oil yield by controlling temperature.
After-Sales Service of DOING Pyrolysis Plant
1. Transportation

As for pyrolysis plant transportation, we will divide the whole pyrolysis plant into parts and load them in containers. Moreover, we have professional freight forwarders who have cooperated with us for many years and have helped us transport many sets of pyrolysis plant.

2. Installation
As for the after-sales installation of pyrolysis plant, we have many experienced overseas installation engineers. Usually, when the pyrolysis plant arrives in the customer's country, we will send engineers to install, debug and run the pyrolysis plant, and train the customer's workers to operate and run the pyrolysis plant.
3. One year warranty

In addition, we will also provide one year after-sales warranty service for pyrolysis plant, and provide lifetime technical support for our customers.
Project Case
We are not an agent but a professional pyrolysis plant manufacturer because we have our own factory to produce the pyrolysis plant. Our factory is very professional. In addition, we have a professional design team and e-commerce team. Till now, our products have sold well in more than 60 countries and regions around the world, winning great praise and trust of our customers all over the world!
Please feel free to leave your contacts here and your privacy is protected. A competitive quotation will be provided according to your detailed requirement within one business day.