What does waste tyre recycling plant refer to?
Waste tyre recycling plant is also called waste tire pyrolysis machine, which is an environmental machine that can recycle waste tyres to fuel oil, carbon black, steel wire and combustible gas. And now with the continuous enhancement of people's awareness of environmental protection and the continuous rise of international crude oil prices, waste tyre recycling plants have become a popular choice to recycle waste tyres.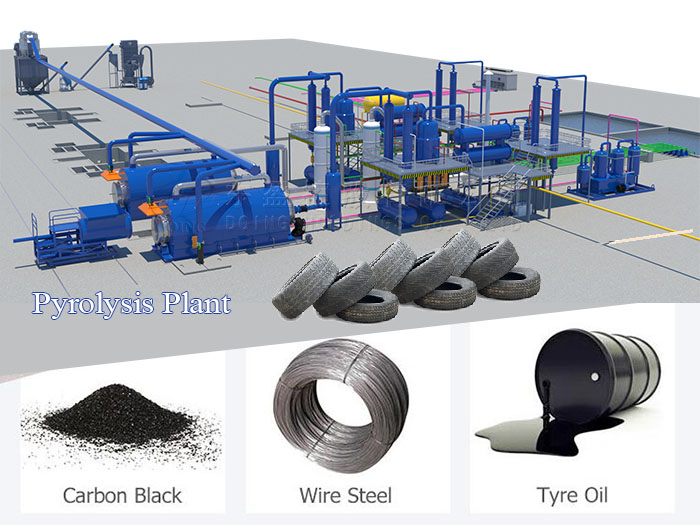 DOING waste tyre recycling plant for sale

Today let's have a detailed learning about the waste tyre recycling plant:
1. Working process of waste tyre recycling plant
Feed the waste tyre into the waste tyre recycling plant and heat the reactor to a certain temperature. Then the waste tyre will be cracked to generate oil gases. Then the oil gases are cooled into oil through the multi-stage cooling system. When the oil gases are all recovered, we are done with the work of recycling waste tyre into fuel oil and we can discharge the carbon black and steel wire.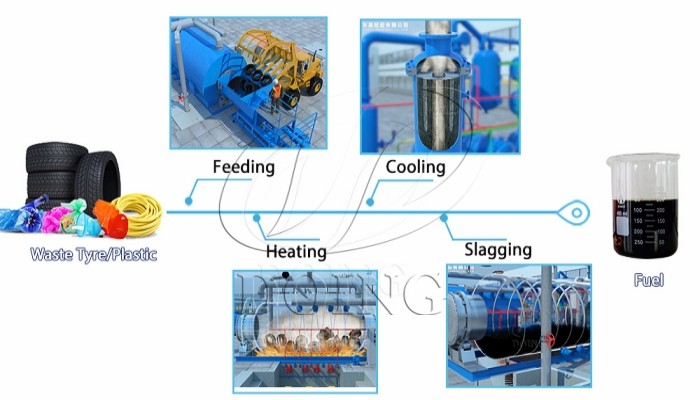 Working process of waste tyre recycling plant

2. Types of waste tyre recycling plant
There are mainly three types of waste tyre recycling plant developed by DOING professional engineer team:
| | | |
| --- | --- | --- |
| Types | Capacity | Advantages |
| Skid-mounted | 100/500KG | No installation, easy to operate, which is suitable investing novice or experiment; |
| Batch type | 1/2/5/10/12/15/18/20+TPD | Cost-effective choice, multiple uses and high working efficiency; |
| Fully continuous | 15/20/30/40/50+TPD | Equips with fully automatic PLC control system, continuous production for nearly two months and bigger processing capacity. |
3. Final products obtained from waste tyre recycling plant and applications
For waste tyres, we can get fuel oil (45% to 52%), carbon black (30% to 35%),steel wire(12% to 15%) and combustible gas(6% to 10%).
1) Fuel oil: The main product-fuel oil produced by our waste tyre recycling plant is widely used for industrial and commercial purposes. With the heating value 10592.48Kcal/Kg, this fuel oil is a kind of good heating fuel which can be applied for boiler factory, cement factory, glass factory and steel mill, etc.
2) Carbon black: Carbon black is used as raw material or main ingredient in many industries and the chemical structure of carbon black strengthens, lengthens the endurance, and can improve the coloring features of the materials. For example, it can be used as conveyor band, hose and doormat, black nylon bag, rubber additive, black colorant in rubber materials and so on.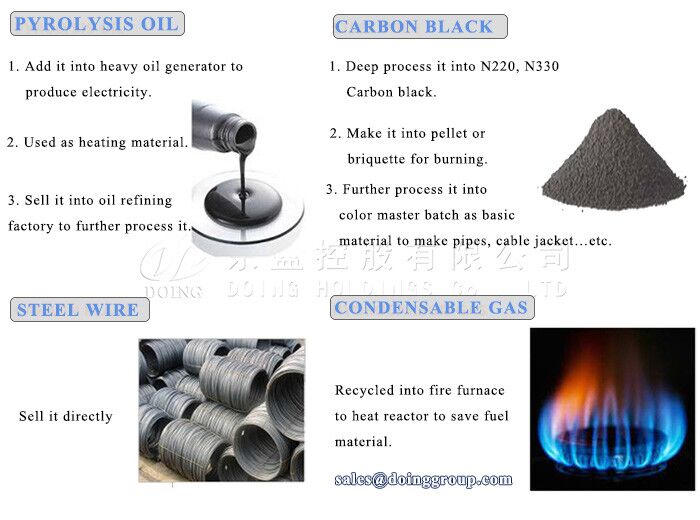 Multiple applications of obtained final products

3) Steel wire: All of the steel present in the tyre can be detached after the pyrolysis recycling process is completed. Valuable steel wires are pressed and sold to steel and scrap dealers.
4) Combustible gas: Combustible gas can be recycled to fuel furnace to heat the reactor or be transported to used as other heating fuels.
4. Is it profitable to carry out a waste tyre recycling plant project?
Of course, it is profitable to carry out a waste tyre recycling plant. Firstly, the obtained final products from waste tyre recycling plants all have large markets. DOING once made a profit analysis of our 15TPD waste tyre recycling plant based on the market survey and some real feedback from our customers, the daily profit is about 3609 USD. What's more, we can also obtain large environmental profits from waste tyre recycling plants. On the one hand, we can reduce soil and air pollution caused by landfill and incineration of waste tyres; on the other hand, DOING waste tyre recycling plant is equipped with environmental systems, such as tail gas cleaning system and desulfurization tower, so during the whole working process, we can avoid as much pollution as possible.
Project cases of DOING waste tyre recycling plants

All in all, lots of customers choose waste tyre recycling plants as their main investment project, because the wastes never have an end, the profit never stops.
As a professional manufacturer of waste tyre recycling plant, DOING has helped many customers successfully carry out the waste tyre recycling plant projects and received great feedback. So if you are interested in our waste tyre recycling plant or want to carry out similar projects, please feel free to contact us!
Leave A Message
Please feel free to leave your contacts here and your privacy is protected. A competitive quotation will be provided according to your detailed requirement within one business day.