What is the advantage of used oil distilaltion plant?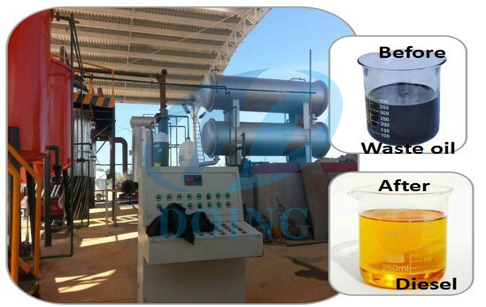 Used oil distilaltion plant
1: To minimize the process of heating of used oil distilaltion plant

By using the heat transfer heating system, our client can save much fuel to heat the whole reactor, and the heating speed is faster and the temperature can keep the reactor hot for longer time,so the whole process is faster with less fuel

2: the heating circulation system is more environmental
All the heat transfer system is a circulating system, the heat transfer oil is recycling inside the reactor. So in total, you can fire less fuel, which not only save your cost on fuel also it is more environmental-friendly. All the system is sealed, in the terms of smoke and smell, our new design Used oil refining plant workers better.

3:The vertical reactor of used oil distilaltion plant
From our design,It is very easy to clean the slag , it will be down through the bottom of the vertical reactors. So the operation is easier

4: continuously working of used oil distilaltion plant

When operating the machine,first you pump oil inside the reactor to heat,after finishing heating,it will becoming oil gas and goes to cooling system,then go to another tank.So,the first reactor is empty,no need to stop,you could pump another tank of oil again into the first tank ,continuously working.

Our

used oil distilaltion plant

will help you to convert used oil into diesel easily and more efficiently, if you need more information ,welcome to contact us at any time, welcome your visit at any time
Leave A Message
Please feel free to leave your contacts here and your privacy is protected. A competitive quotation will be provided according to your detailed requirement within one business day.