Where to get the latest price of fully automatic pyrolysis plant?
With the strengthening of environmental protection requirements of local governments, more and more countries have advocated the use of fully automatic pyrolysis plant to replace the original batch type pyrolysis plant. For new novices, here I'm going to show you where to find a reliable supplier of full automatic pyrolysis plant and get the factory price of this plant.​
Fully automatic pyrolysis plant requires a much higher process from suppliers, and although many suppliers say they can provide such designs, they do not even have an actual operational site to verify their technology maturity. At this time, a rich production and export experience of the supplier will be particularly important, and the price you can get of fully automatic pyrolysis plant will be more favorable, and the machine quality will be higher. Doing Company is the preferred choice for many customers to get the latest price and make an order of fully automatic pyrolysis plant by virtue of mature technology and high performance-to-price ratio.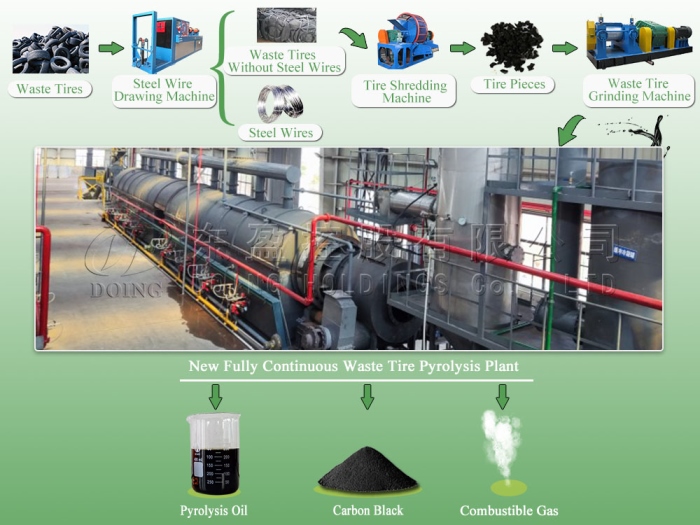 The working process of automatic waste tyres pyrolysis plant
Why do so many customers choose to purchase the fully automatic pyrolysis plant from DOOING Company? Because DOING mainly possesses three advantages:
1.Professional manufacturer, customized detailed solutions
As a pyrolysis plant supplier with more than 11 years of manufacture and export experience, DOING has a good understanding of the environmental protection requirements of various countries, so it makes different configurations and schemes according to the needs of different countries to help customers smoothly implement the fully automatic pyrolysis plant project and make it land.
2.Rich installation experience, good customer feedback
As for the fully pyrolysis plant, DOING has upgraded its process to the seventh generation. Currently, 11 production lines of fully automatic pyrolysis plant have been successfully sold and installed in Spain, Kazakhstan, Brazil, Russia, India and China, etc. The DOING professional technical team has never stopped technical innovation, and carries out timely technical updates according to the feedback of customers' operation, in order to provide customers with better experience.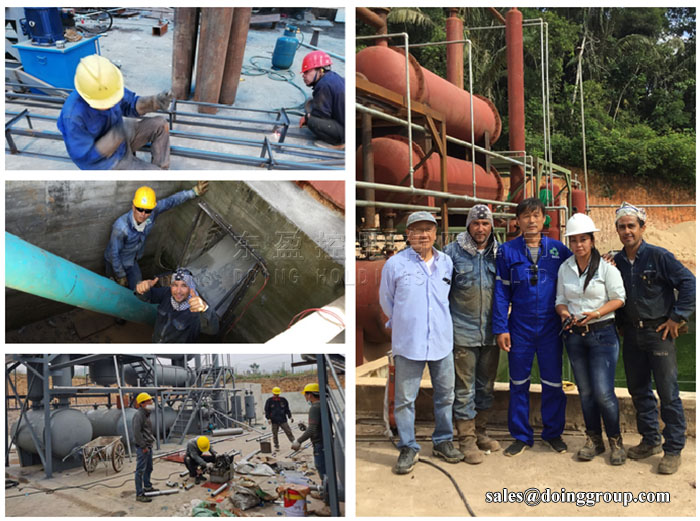 Workers install and debug machinery free of charge
3. High oil yield, bring you high profits
Fully automatic pyrolysis plant is mainly designed for customers with a large capacity of waste plastic and waste tires, such as 30tpd, 50tpd or even larger. For every customer who has inspected this project, I believe they know that the greater the processing capacity of this project, the more products we can obtain, and the higher the profits will be.
Our fully automatic pyrolysis plant can improve efficiency and productivity while saving labor and plant space. Its 99% high pyrolysis rate can ensure that the raw materials like waste tires/plastics/oil sludge will be fully pyrolyzed, the final oil yield and your profits are high.
Therefore, please do not hesitate to contact the DOING Business Manager if you would like detailed information about the more automated fully automatic pyrolysis plant and the corresponding latest price.
Leave A Message
Please feel free to leave your contacts here and your privacy is protected. A competitive quotation will be provided according to your detailed requirement within one business day.