What machines are included in the fully continuous waste tire pyrolysis line?
A complete fully continuous waste tire pyrolysis line includes pretreatment system, feeding system, pyrolysis system, cooling system, odor disposal system and smoke desulfurization system. It makes the whole waste tire pyrolysis line comply with the requirements of high efficiency, high safety and environmental protection regulations.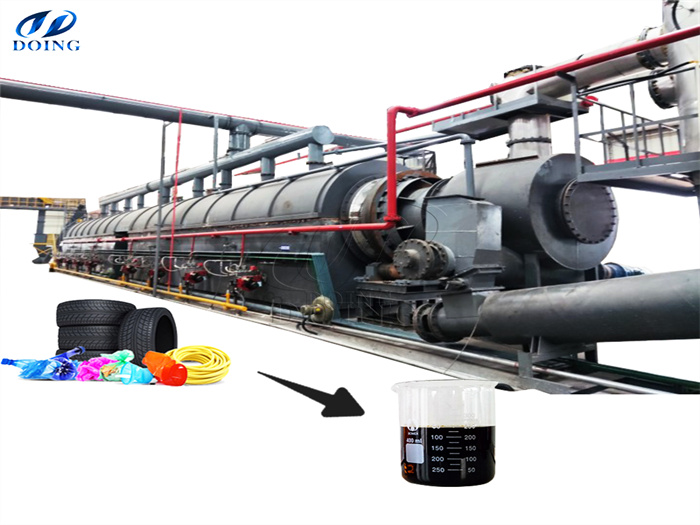 DOING factory fully continuous pyrolysis plant picture
1. Pretreatment system
First pull out the steel wire in the tire with a wire drawing machine, and then use a crusher to break it into small piecesof 2-5cm /rubber powder.
2. Feeding system
The fully continuous waste tire pyrolysis line uses a screw-sealed feed auger to feed the rubber powder into the reactor. The feeding speed of the feeder can be set to control the whole process in an orderly manner.
3. Pyrolysis system
The pyrolysis system is the core part of the waste tire pyrolysis line. The pyrolysis of waste tires into oil gas takes place in the pyrolysis reactor. The reactor adopts a spiral and rotary design, which can convey waste tire pieces/rubber powder automatically.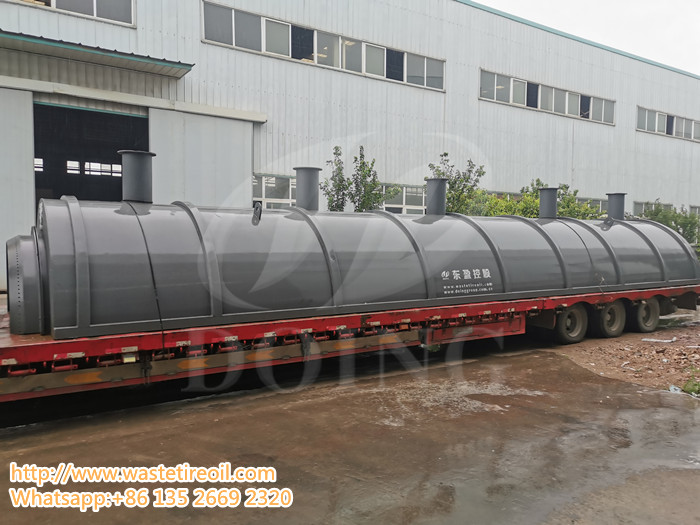 Pyrolysis reactor
4. Cooling system
DOING fully continuous waste tire pyrolysis line uses the latest condensation technology. We set up four condensers to completely cool the oil gas into liquid oil, and the condensation effect is very good.
5. Odor disposal system
It is also our company's patented system to remove odorous pollutants such as hydrogen sulfide contained in the exhaust gas before combustion.
6. Slag discharge system
The
fully continuous waste tire pyrolysis
line is equipped with a screw conveyor to connect the slag discharge at the end of the reactor. The slag discharge system has a good sealed degree and there is no dust. And there is a circulating water cooling layer outside the screw conveyor, which can cool the discharged carbon black and avoid high temperature damage to the slag discharge device.
7. Smoke desulfurization system
The smoke generated by fuel combustion is removed by the smoke desulfurization system, which can remove dust and sulfur compounds and meet the air pollution emission standards.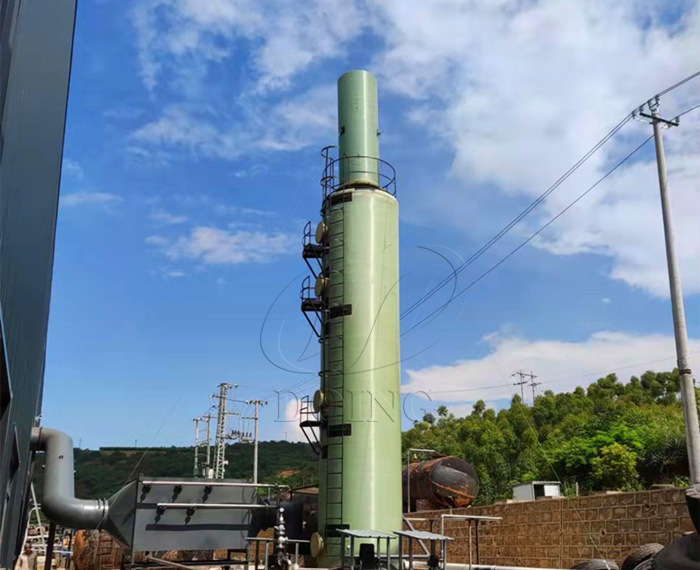 Smoke desulfurization system
Doing Group has been researching pyrolysis plants for more than eleven years. With an independent equipment manufacturing factory, mature equipment production experience and professional equipment production technical team, we have developed different types and scales of pyrolysis lines and exported pyrolysis plants to 90+ countries. For more information and free quotes about the fully continuous waste tire pyrolysis lines, feel free to consult us.
Leave A Message
Please feel free to leave your contacts here and your privacy is protected. A competitive quotation will be provided according to your detailed requirement within one business day.