What's the difference between semi-continuous pyrolysis plant and fully continuous pyrolysis plant?
Over the years, pyrolysis technology has been very popular and widely used to convert wastes into fuel oil, from batch type update to continuous type pyrolysis technology. As far as continuous pyrolysis technology is concerned, there are also semi-continuous pyrolysis plants and full-continuous pyrolysis plants. So what is the difference between these two pyrolysis plant? Here Henan Doing Company makes detailed comparisons for your reference.
Two kinds of continuous pyrolysis plant for sale
1. Raw material difference
Semi-continuous pyrolysis plant can feed different sizes of tire pieces.
Fully continuous pyrolysis plant can only feed 5mm rubber powder to avoid block to achieve keep feeding at the same time keep discharging.
2. Daily capacity and working time difference
Semi continuous pyrolysis plant, the daily capacity is maximum 15 tons. Normally it works about 22-24 hours per 15 tons.
And a fully continuous pyrolysis plant can keep feeding at the same time discharging. Every day you can feed about 50 tons of rubber powder, and the whole process will work 24 hours per day for 60 days without stopping.
3. Price difference
According to different technology, their investment in machines is different. Semi continuous plant is about 60,000USD to 150,000USD, but fully continuous pyrolysis plant is about 300,000USD to 750,000USD.
Fully continuous pyrolysis plant installed by Doing Company
If we say that semi-continuous actually saves the time carbon black and next pyrolysis heating time, but fully continuous pyrolysis plant completely improves the efficiency and can help you obtain more profits. So fully continuous pyrolysis plant technology is a trend.
If you have higher requirements for automation degree and have a large amount of waste tires/rubber powder, you could consider a fully continuous pyrolysis plant. If you have other concerns and want to get the detailed price of our continuous pyrolysis plant, you could leave messages and our sales manager will reply to you as soon as possible within 24 hours.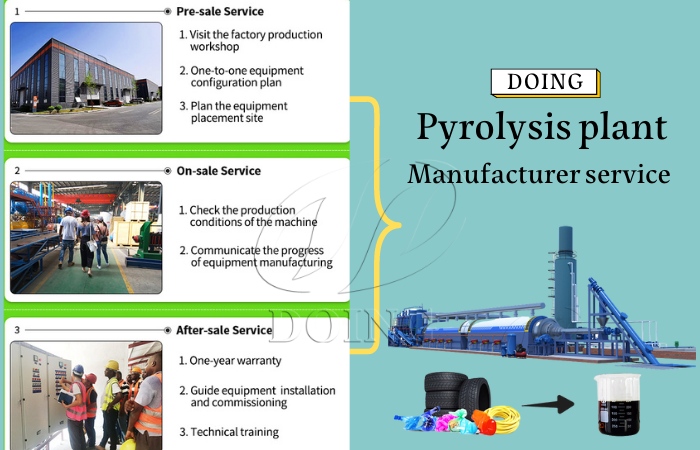 All-around services offered by Doing Comany

DOING has been adhering to the business philosophy of "Quality First, Integrity First", providing customers with the highest quality pre-sales and after-sales service, the most professional technical support, strict quality control, and continuous improvement of equipment technology and production technology.Our pyrolysis plant is sold well in more than 90 countries and regions around the world, and has won praise and trust from users all over the world.
Leave A Message
Please feel free to leave your contacts here and your privacy is protected. A competitive quotation will be provided according to your detailed requirement within one business day.