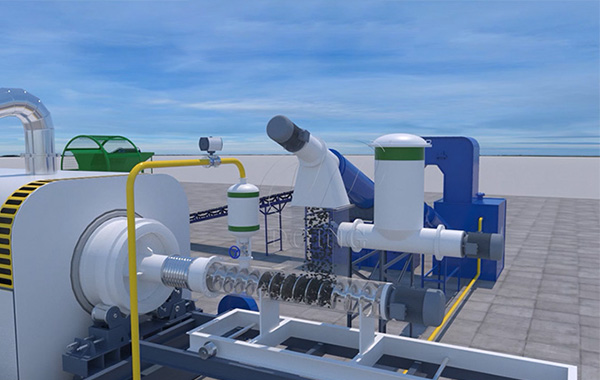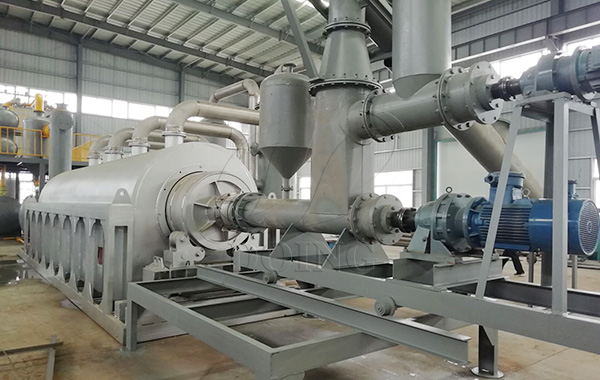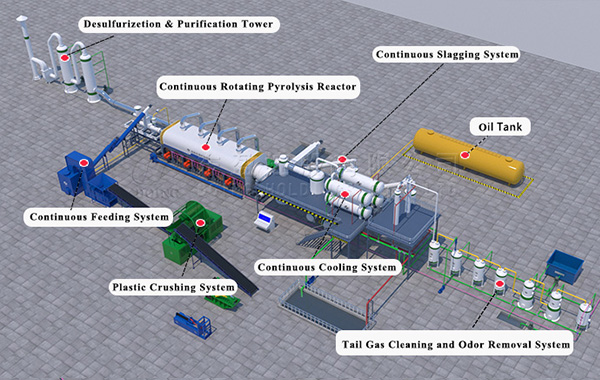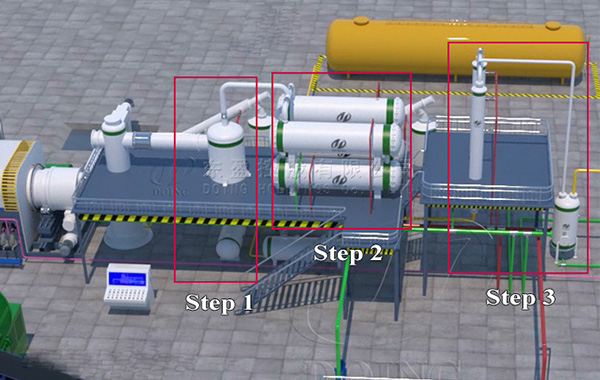 Continuous Oil Sludge Pyrolysis Plant
Continuous oil sludge pyrolysis plant can get fuel oil, water and soil from oil sludge. This continuous oil sludge pyrolysis plant can offer you an affordable method to get a good deal done. It will give you a powerful approach to make a lot of money and you can quickly produce tons of oil using this machine.
Processing Capacity: 20T/30T/50T, custom
End Products: Pyrolysis oil, carbon black
Core Components: Pyrolysis reactor, condenser, PLC
Certificates: CE, ISO, SGS
Email:

Phone/WhatsApp/WeChat:

+86-135-2669-2320
Working Process of Continuous Oil Sludge Pyrolysis Plant
1. The oil sludge is loaded into the pyrolysis reactor of oil sludge pyrolysis plant. After heating the reactor, the oil sludge will be vaporized into oil gas.

2. The oil gas will goes through condensation system, and the liquefiable part is condensed into fuel oil, the non-liquefiable part is sent to the furnace to heat the pyrolysis reactor, which saves fuel resources and does not pollute the environment.

3. The flue gas produced after combustion in the furnace goes through desulfurization and purification tower to remove soot and hydrogen sulfide, which finally meets environmental standards and can be discharged safely.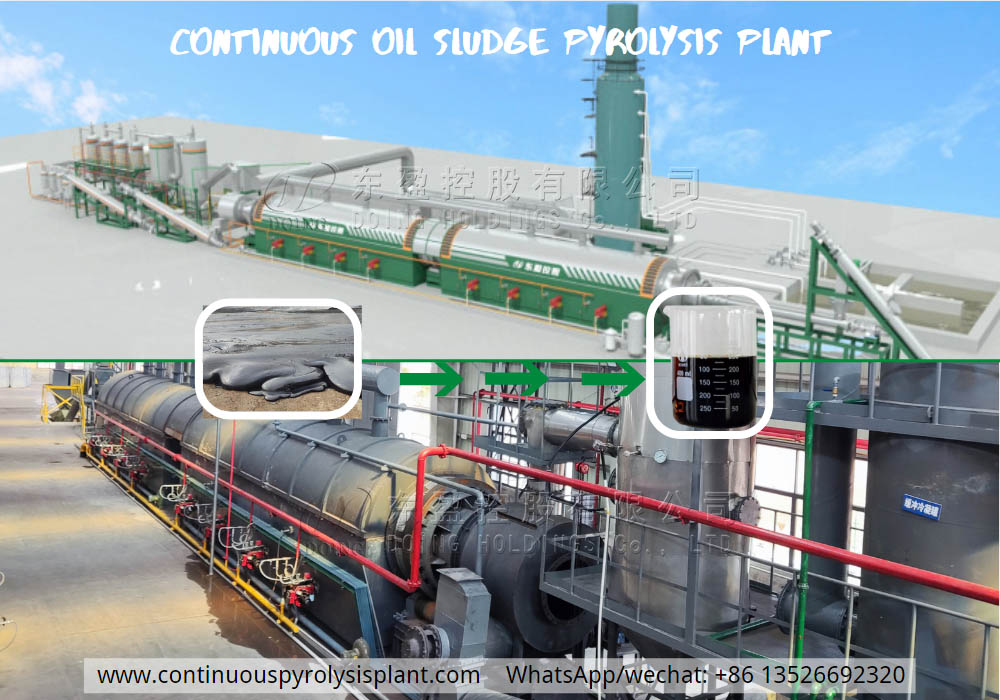 Referenced Specifications of Continuous Oil Sludge Pyrolysis Plant
| | | |
| --- | --- | --- |
| No. | Item | Specifications |
| 1 | Working method | Fully continuous process without stop 24/7 |
| 2 | Reactor Structure | Horizontaltype, external rotating reactor,input material movedinside reactor through a guiding device. |
| 3 | Reactor size | According tocapacity |
| 4 | Electricity consumption | 50 KW/H |
| 5 | Heating method | Indirect heating, no direct fire to reactor |
| 6 | Heating resource | Any fuel oil or gas, with therecycled tailgas |
| 7 | Cooling method | Circulationwater |
| 8 | Sealing | Both hard and soft sealing. Mainly use soft sealing. |
| 9 | Control method | Intelligent, variable frequency automatic control +manual operation: also can be made full PLC system without any manual control according to customer requirement |
| 10 | Area | Around 1000m²normally |
| 11 | Application | Solid waste treatment |
| 12 | Reactor material | Q245R boiler plate (stainless steel as optional) |
| 13 | Machine life | 5-15 years according to actual operation |
The Advantages of The Continuous Oil Sludge Pyrolysis Plant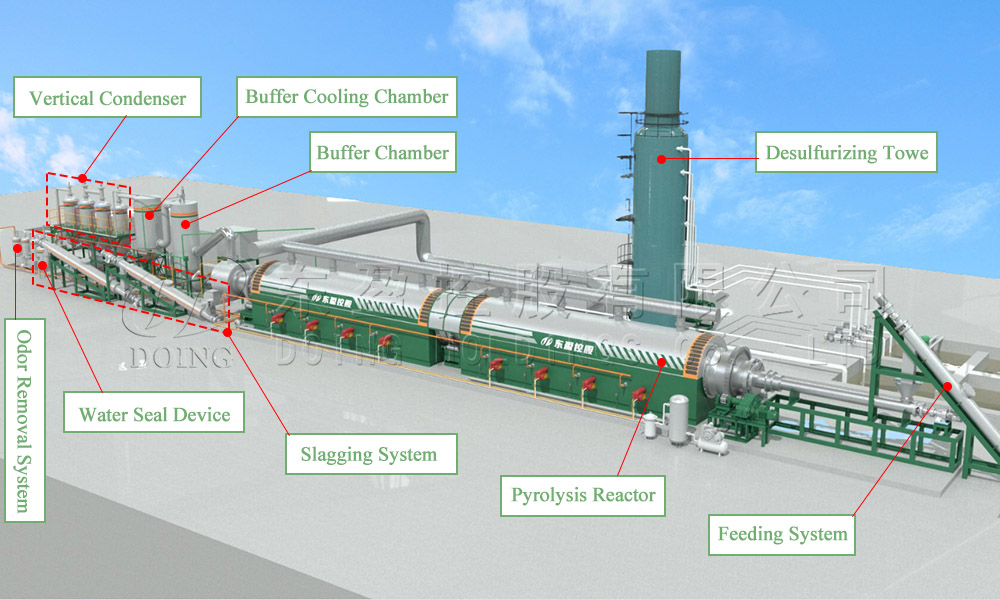 1. Rotated reactor

The new type continuous oil sludge pyrolysis plant adapts rotated reactor, which could be heated evenly in 360°. This way it would not heat only one part of the reactor for long time, thus to make the reactor more durable.

2. Rollover device

Inside the reactor, there is the rollover device. The input materials would be turned over 4000 times from feeding to slagging. And the materials inside the reactor are forced to be turned over continuously and highly dispersed, which could get evenly heating , thus greatly increase the pyrolysis speed.

3. Adapt rotation outside and inner diverter heating method.

The raw materials is pyrolyzed against the wall of reactor by directly touching the heat transferred reactor surface of the continuous oil sludge pyrolysis plant. To receive heat fast to make sure that the heat exchange is fast.

4. The capacity can be adjusted.

DOING pyrolysis reactor can be increased or decreased according to our clients' production demand, thus we can adjust the production scale. For example, our hot sale type is 20 tons, 30 tons and 50 tons. Of course, you can also customize other processing capacity.
The End Products of Continuous Oil Sludge Pyrolysis Plant:
From the continuous oil sludge pyrolysis plant, we can get three end products, fuel oil, solid waste and water.
Fuel oil

It is of high quality, so you can use it as fuel directly. You can also employ a piece of waste oil to diesel plant to refine it into diesel.

Solid waste

Most of the solid waste is soil, which can be used to make construction materials.

Water

The water produced has no pollution to the environment after treatment and can be discharged directly.
Project Case
Please feel free to leave your contacts here and your privacy is protected. A competitive quotation will be provided according to your detailed requirement within one business day.