Contact Us
Cell/WhatsApp: +86-135-2669-2320

Phone: +86-371-56771821

Skype: bonniezhao2

E-mail: market@doingmachinery.com

Address: Yaozhai Road, Jinshui District, Zhengzhou City, Henan Province, China
Waste Tyre & Plastic to Diesel Plant
I. Product Introduction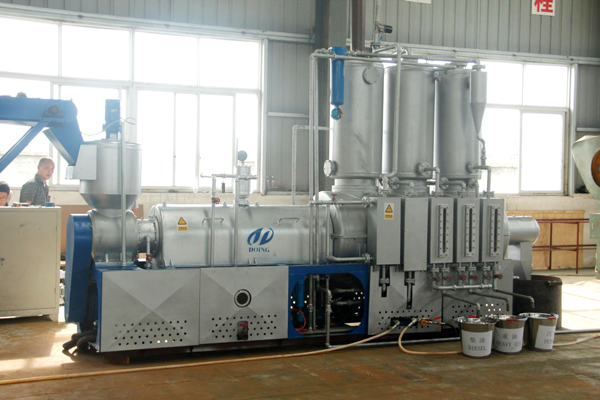 Waste tyre & plastic to diesel plant
Waste tyre & plastic to diesel plant is a new design we DOING Company just developed. The main advantage is it could directly extract diesel and gasoline separately from waste tyres or plastics. This waste tyre & plastic to diesel plant adopts fully automatic PLC control system, easy for operation. And the whole line is a one piece design, which has small land occupy size.



II. Applicable Input Materials for Waste Tyre & Plastic to Diesel Plant: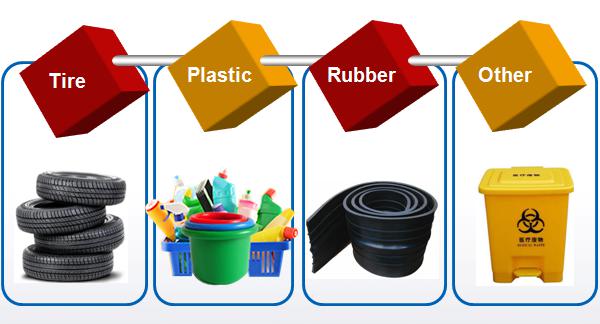 Applicable input materials for waste tyre & plastic to diesel plant
1) Waste plastics
2) Waste tires
3) Waste rubbers
4) Medical waste



III. Waste Tyre & Plastic to Diesel Plant Working Process: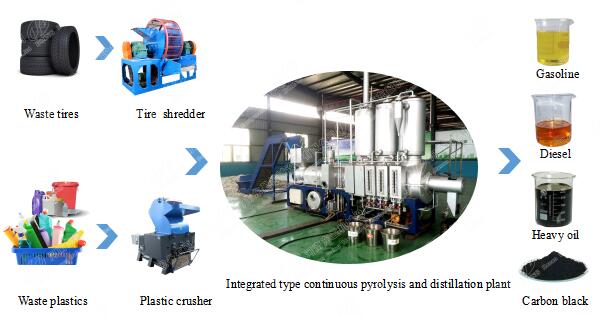 Waste tyre & plastic to diesel plant working flow
1) Feeding
It needs the input materials shredded or crushed into small pieces less than 3-5cm for automatic and continuous feeding;
2) Preheating to remove Dioxin
As we all know that Dioxin is very easy to be produced from many kinds of waste burning process, especially chlorine substance, like PVC plastics, paper-mill waste, household garbage, etc. And the emission of Dioxin will cause serious problems to the environment and human body, thus it need to be seriously disposed and removed before released to the air.
3) Pyrolysis
After remove the Dioxin, the input materials will go to the pyrolysis reactor for further heating and cracked to oil gas.
4) Catalysis
The catalysis process is mainly adopted to purify oil gas and get the maximum light oil.
5) Fractionation
Fractionation process is mainly for getting different end product in different temperature.
7) Extra gas recycling and collection
The main component of tail gas is methane, which is a non-condensable gas and also a good fuel. In order to ensure the safe operation of the equipment, we will not discharge the exhaust gas to the atmosphere, but will recycle the exhaust gas to the hearth of the heated reactor to assist the heating as fuel. This not only ensures that the exhaust gas does not pollute the air, but also helps the customer to save the heating fuel.
8) Carbon black slagging
Carbon black will be collected in carbon black tanks through an automatic slag removal system without causing dust in the workshop.

IV. Main Advantages of Waste Tyre & Plastic to Diesel Plant:
Totally to say, there are six advantages of this waste tyre & plastic to diesel plant:
A.High efficiency: It can convert waste to diesel, gasoline and heavy oil in the same time and separately;
B. Easy control: With smart PLC control system;
C. Continuous working line: Fully automatic continuous feeding and slagging system, which can keep feeding, heating, discharging and getting oil output every second without stop;
D. No pollutant emissions: With advanced dedusting and odor removal system remove Dioxin,;
E. Better meet clients' different request: With catalysis system which could adjust the quantity of diesel and gasoline according to customer's demand;
F. Energy saying: With extra gas collection system.

V. Output Products & Applications of Waste Tyre & Plastic to Diesel Plant: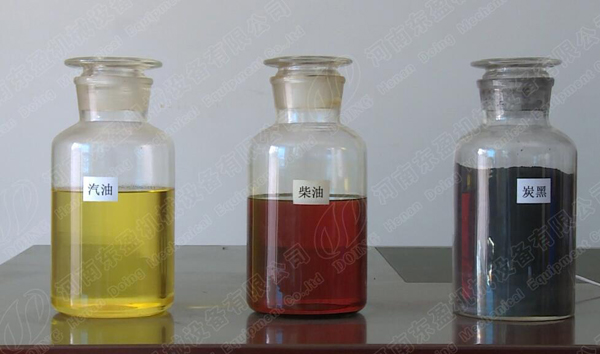 Output products
1)Diesel
Which can be used as heating purpose or as fuel in heavy engines.
2) Gasoline
It can be used as fuel in light engines.
3) Heavy oil
It is used as heating material in industry, like cement factories, boilers, etc.
4) Carbon black
The carbon black can be further processed.
It can be briquetted into pellet as heating material to replace charcoal, wood, etc.
Besides, it can be refined to small meshes for making shoe soles, paint, new rubber, etc.



Ⅵ. Equipment Specification of Waste Tyre & Plastic to Diesel Plant:
Item

Content

Inputs

Waste tire, plastic, medical waste, multiple solid waste

Outputs

Diesel, gasoline, heavy oil, carbon black, uncondensable gas

Model

Capacity

Power
Weight

1.5T/D

15KW
6T

2.5T/D

20KW
8T

5T/D

35KW
10T

10T/D

50KW
12T

15T/D

65KW
15T

20T/D

80KW
20T

Machine type

Continuous machine

Operation system

Fully automatic PLC control system

Reactor material

Q345R/Q245R/310S+boiler plate/stainless plate

Thickness

12mm/14mm/16mm

Heating type

Indirect heating

Heating fuel

Fuel oil, LPG, Natural gas

Cooling type

Circulating water cooling

Land occupy size

Take 10T/D machine as an example, it's about 150 - 200m2( Width:5-10m, Length:15-20m, Height: 8m)

Required workers

1-2 workers per shift

Remarks

The bigger plant like 30T/D, 50T/D,100T/D could be made according to order.
Leave a Message about Product / Waste Tyre & Plastic to Diesel Plant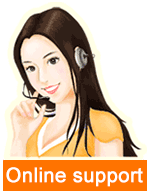 Leave a message