How to make pyrolysis oil from municipal solid waste?
Waste pyrolysis plant is commonly used to make pyrolysis oil from municipal solid waste, because solid waste contains many materials which are made of hydrocarbon polymers such as waste tires, rubber, various kinds of plastic, etc. These hydrocarbon polymers can be converted into pyrolysis oil, carbon black, and syngas. The following are some preparation works needed in order to make pyrolysis oil from municipal solid waste.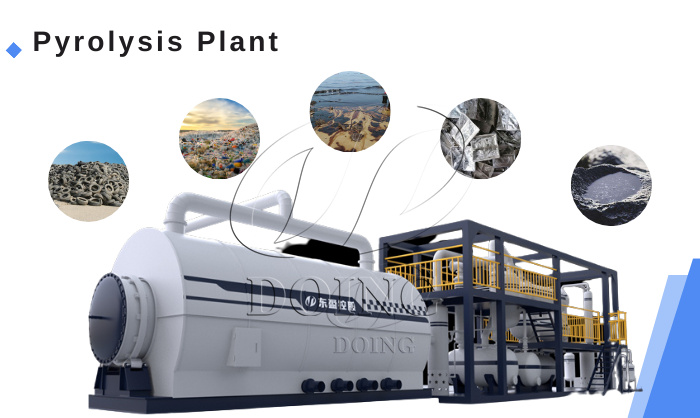 DOING municipal solid waste pyrolysis plant
Firstly, sorting out the waste that is made of hydrocarbon polymer from the municipal solid waste. As is mentioned above, the waste that can produce pyrolysis oil includes waste tires, rubber and various kinds of plastics. Then the raw material supply problem can be solved, because sufficient raw material is the irreplaceable condition to keep the running of the waste pyrolysis plant.
Secondly, choosing a municipal solid waste pyrolysis plant manufacturer and buying a pyrolysis plant. During this process, you need to pay attention to comparing manufacturers' qualifications, plant quality, price, and type, etc. DOING waste pyrolysis plant manufacturer recommend that you choose a manufacturer with its own factory. Such manufacturers generally have after-sales services, such as plants installation and operation training, which can help you solve many problems. In terms of quality, it is best to conduct on-site inspections or visit the pyrolysis plants sites that are already in operation.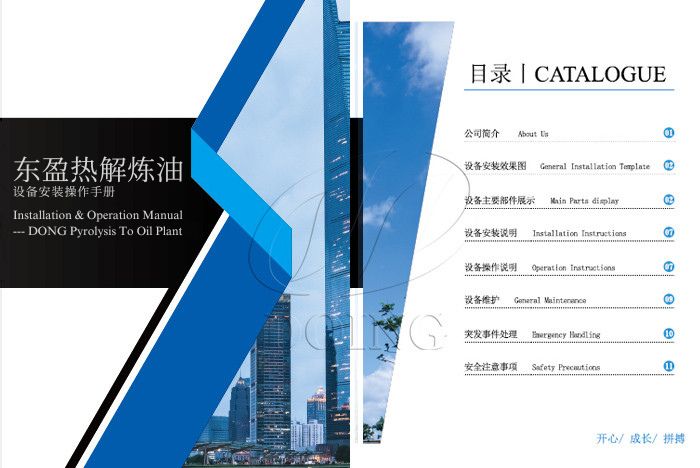 DOING pyrolysis plant installation & operation manual

DOING municipal solid waste pyrolysis plants manufacturer has been developing for more than 13 years. Our pyrolysis plants are designed by our own team of engineers and produced in our own factory. The technology and quality are guaranteed, and there are project cases in many places around the world. We can arrange for you to inspect nearby or come to China for inspection if you need. Besides, our waste pyrolysis plant has various types (batch, semi-continuous, fully continuous) and processing capacity (100kg-50TPD), you can choose independently.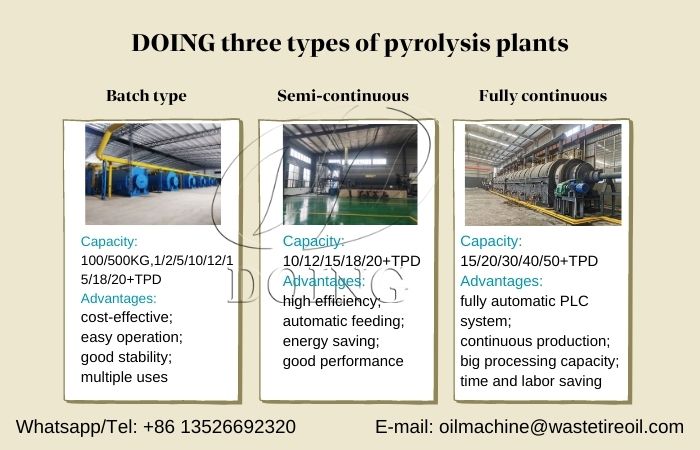 DOING different types of municipal solid waste pyrolysis plants
Thirdly, get a piece of land with a suitable size for putting the municipal solid waste pyrolysis plant. The land area depends on the processing capacity of the plant you purchase. For example, the floor area of one set DOING 10ton capacity batch type waste pyrolysis plant is about 400㎡. We can provide the factory layout drawing according to your landscape and we can guide the installation and do some operation training.
Finally, the waste pyrolysis plant can run normally. Feeding the waste to the waste pyrolysis plants and heating the pyrolysis reactor. The municipal solid waste reacts in a high-temperature sealed reactor and turns into oil-gas and black solid (carbon black). Immediately after, the oil gas passes through the condensation system, and part of it is condensed into liquid oil, which is pyrolysis oil. Part of the non-condensable gas can continue to be transferred to the reactor for heating.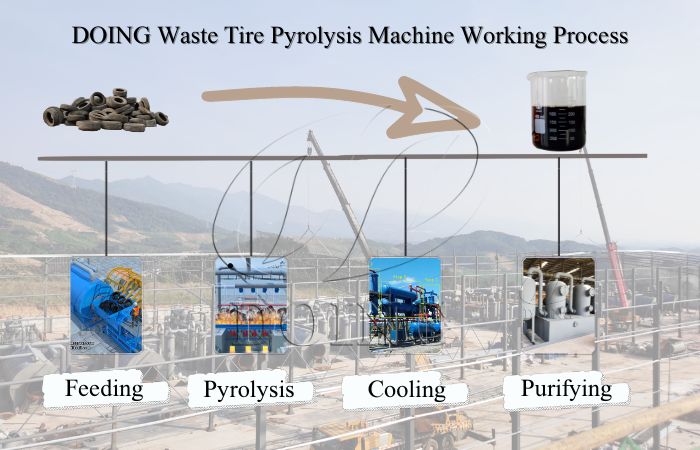 The pyrolysis process of municipal solid waste
In this way, we obtained pyrolysis oil from municipal solid waste. If you want more information about us, welcome to China and visit our factory to do municipal solid waste pyrolysis project research.
Leave A Message
Please feel free to leave your contacts here and your privacy is protected. A competitive quotation will be provided according to your detailed requirement within one business day.