Is pyrolysis plant available in Canada?
Yes, pyrolysis plants are available in Canada. Pyrolysis technology has gained attention worldwide as a solution for waste management and resource recovery. Henan Doing Company has offered and exported many sets of pyrolysis plants to 100+ countries and regions, including Canada.
Waste pyrolysis plant project cases installed by Henan DOING

The principle of DOING pyrolysis plant is to convert large molecule compounds into various small molecule compounds under high temperature and oxygen free conditions. The waste materials that can be pyrolyzed by pyrolysis plant available in Canada include waste plastics, rubber materials, tires, waste oil sludge, coal tar, aluminum plastic, medical waste, PCB materials, biomass, or other waste organic materials.
These pyrolysis plants can be used to convert waste materials into valuable products like fuel oil, carbon black, and syngas. The products can then be used in various industries, including energy generation, fuel production, waste recycling, and fuel production, and material recycling manufacturing, etc. Below are the final product application pictures of the pyrolysis plant for your reference.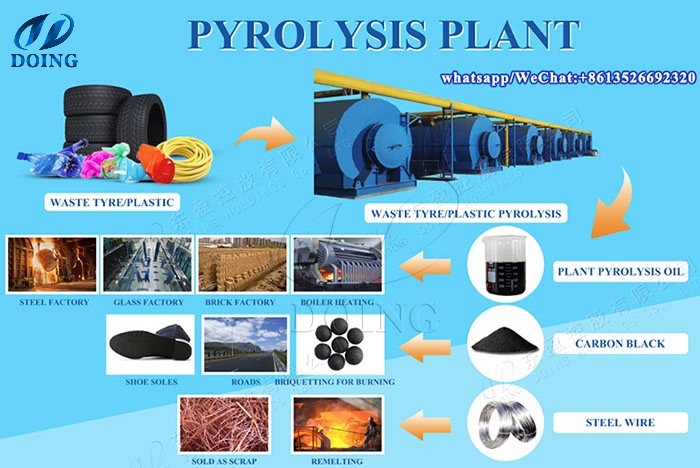 Waste pyrolysis products applications
If you are interested in acquiring a pyrolysis plant in Canada and benefit from it, you need to make the following preparations.
1. Determine the raw materials and processing capacity. Find local raw material suppliers, understand the cost of raw materials, and achieve cooperation. It is necessary to consider the costs of different raw materials during different periods and choose the one with higher profits.
2. Conduct market research to understand the market prices and sales channels of pyrolysis products. It is best to conduct a complete profit analysis.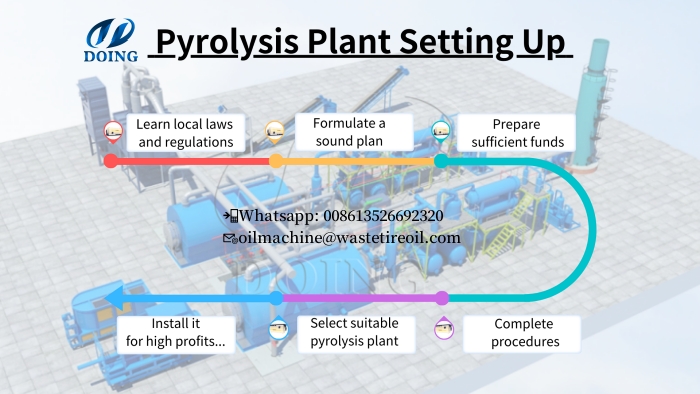 Instructions for pyrolysis plant setup in Canada

3. Find enough land to install equipment and build a pyrolysis factory, and obtain a land project use permit from the government. Compliance with environmental and safety standards is crucial for the successful implementation and operation of a pyrolysis plant. Therefore, it is necessary to examine the local environmental standards in Canada to determine the configuration of the flue gas environmental protection system for the equipment.
When your funds and the above points are ready, you can start buying a pyrolysis plant. It is a highly profitable and environmentally friendly project in Canada, and you will receive government support.
Batch continuous pyrolysis plant in Canada for sale
Overall, pyrolysis plants are available in Canada, and with proper research and compliance, it is possible to acquire and operate a pyrolysis plant for waste management and resource recovery purposes. Henan Doing Company can provide information about the available batch/comtinuous pyrolysis plant sizes, capacities, and customization options to suit your specific needs and waste processing requirements.
Leave A Message
Please feel free to leave your contacts here and your privacy is protected. A competitive quotation will be provided according to your detailed requirement within one business day.