How does continuous pyrolysis plant works?
How does continuous waste tire pyrolysis plant works?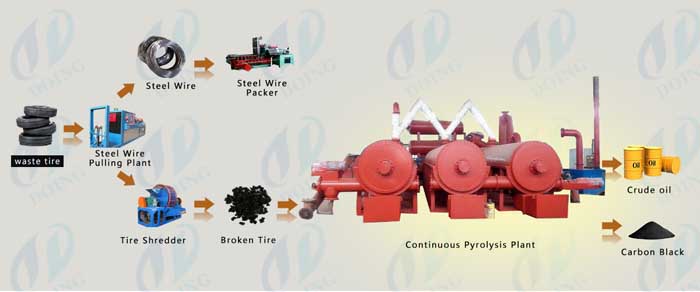 Cotinuous waste tire pyrolysis plant working process
1. Collect waste tires: All kinds of waste tires are available, from small car tires to big OTR tires.
2. Remove steel wire: Use a steel wire pulling machine to pull out the steel wire from waste tires.
3. Shred tires: Use a specialized tire shredder to process big whole tires into 3-5cm small pieces for easy feeding.
4. Continuous pyrolysis process: Shredded tyres go into the continuous waste tyre pyrolysis plant , will firstly go through a mutiple pyrolysis reactor system to be pyrolyzed into oil gas. And oil gas will be cooling down to liquid oil through the cooling system. The residues (carbon black) will be pushed by continuous feeding tires to the carbon black dischrge system for discharge.

How does continuous waste plastic pyrolysis palnt works?


Continuous waste plastic pyrolysis plant working proces
1.All available plastic can be shredded by plastics crusher, and then feed plastic granules directly into plastic continuous pyrolysis plant through the feeding door.

2.Our feeding door is with screw inside, so it can help you easily convey the plastic granules into our reactor No 1, then all the plastic can be decomposed under the high temperature through reactor No 1 to reactor No 2,then to reactor No 3...Until all the plastic fully pyrolysed, then all the carbon black powder will be discharged automatically to the carbon black tank.

3. All the available oil gas will be cooled by circulation water and the extra pyrolysis gas will be recycled through pipes into the burners for heating again. In our continuous waste plastic pyrolysis plant,the water circulation system and extra pyrolysis gas recycling system will help you save much fuel and water resource,in this way, our plastic continuous pyrolysis plant can minimize your cost and maximize your profits.
Leave a Message about How does continuous pyrolysis plant works?
If you wanna to get more details about continuous pyrolysis plant, you can send E-mail to market@doingmachinery.com. Or you can consult our professional engineers and specialized sales team by leaving a message in below form. We will contact you ASAP. You also can visit our factory in Henan, China.

Leave a message