Are the air emissions from the waste tire pyrolysis process compliant with US air quality requirements?
As we all know, waste tire pyrolysis is a chemical process, and it is a petrochemical project, so the emission cannot be avoided. But do not worry too much, we have done a lot in the environmental protection of DOING waste tire pyrolysis plant and the final emission can reach China and Europe emission standard and also can be compliant with US air quality requirements.
Our DOING waste tire pyrolysis plant is equipped with non-condensate tail gas disposal system, which can remove hydrogen sulfide, sulfur dioxide, sulfur trioxide, nitrogen dioxide and other odorous polluting gases contained in the tail gas before combustion to ensure a good emission standard. Besides, we adopt the high standard flue gas desulfurization tower to make the treated gas fully compliant with US air quality requirements.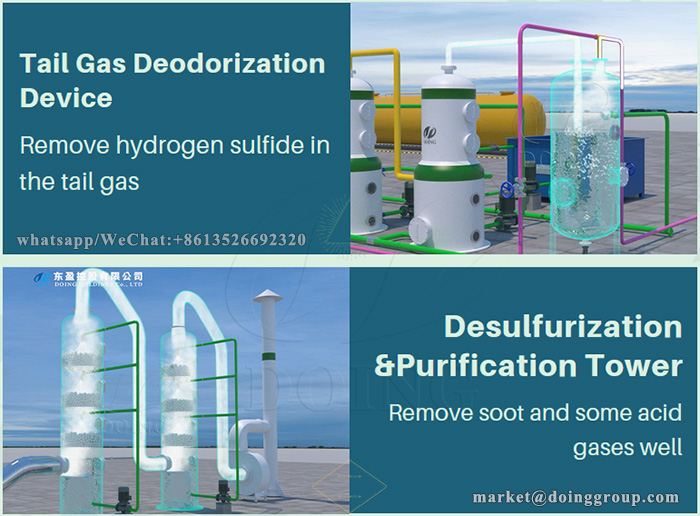 Environmental protection system
After desulfurization and dust removal treatment of the waste tire project's pyrolysis &combustion exhaust gas, the removal rate of SO2 in the exhaust gas can reach 85%. The dust removal rate can reach 90%, the VOCs removal efficiency is 85%, the hydrogen sulfide removal efficiency is 80%, and the deodorization efficiency is 80%. The emission concentration and emission rate of each pollutant meet the requirements of the first-level standard in the Comprehensive Emission Standard for Air Pollutants (GB16297-1996--China national standard), so it can be compliant with US air quality requirements.
Besides the no gas emission problem, and there is no waste water emission problem in our waste tire pyrolysis plant working process.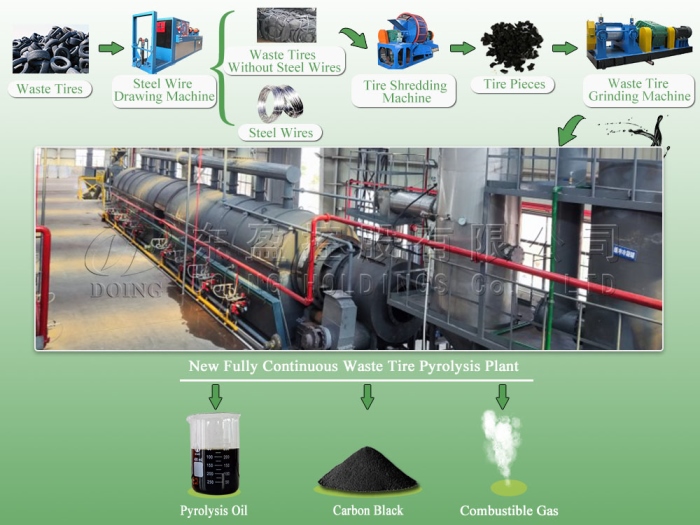 Fully continuous waste tire pyrolysis plant working process
The water used in the whole waste tire pyrolysis system is divided into two parts. One part functions as cooling water for cooling down the hot oil gas, and it circulating, the water-in is the same as the water-out, so there is no any pollution. The other part is as rinse water to remove the sulphur and dust in the flue gas purifying process, which is also recycled and there is no need to discharge it but add it regularly with its evaporating.
So you can feel safe to consult and purchase the waste tire pyrolysis plant from Henan Doing Company. With all-around environmental protection devices and mature pyrolysis technology, our waste tire pyrolysis plants are hot sale and installed in 90+ countries and well recognized by our customers.
Leave A Message
Please feel free to leave your contacts here and your privacy is protected. A competitive quotation will be provided according to your detailed requirement within one business day.