How to choose a suitable tire derived Fuel (TDF) production pyrolysis machine?
Choosing a professional tire derived fuel(TDF) production pyrolysis machine supplier with rich experience and good pyrolysis technology commonly means that you choose a suitable pyrolysis machine.
We are a renowned manufacturing factory for waste tyres, rubber, plastic as well as waste oil sludge pyrolysis machines for more than 13 years. Our tire derived Fuel (TDF) production pyrolysis machine has spread to more than 100 countries and regions all over the world. If you are looking for a suitable waste pyrolysis machine, DOING GROUP will be your ideal supplier.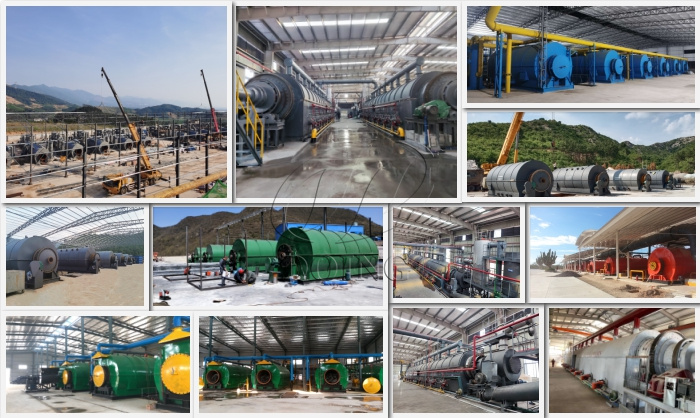 Waste tire derived fuel production pyrolysis machine projects installed by DOING Group

Our waste pyrolysis machine has various models and processing capacities ranging from 500kg to 100Ton, so, to choose a suitable tire derived Fuel (TDF) production pyrolysis machine from us, you will have many different choices to choose according to your project budget and the form of your waste tires.
For example, if you are very new in this waste pyrolysis fuel oil business and do not want to put big investment in your first step, you can start from our 1-5ton or 8-15ton batch waste pyrolysis machine. If the pyrolysis machine is used to test the raw material or for purpose of presentation, then our mini 100kg/ 500kg skid-mounted waste pyrolysis machine will be the optimum choice. But if you have a large processing capacity of waste tyre or tyre rubber powder, you can consider our big capacity batch pyrolysis plant or continuous waste pyrolysis machine.
Four types of tire derived fuel production pyrolysis machine for sale
Before making the decision to choose batch model pyrolysis machine or continuous model pyrolysis machine, it is better to know their difference.
In brief, the continuous waste pyrolysis machine can feed continuously, oil producing continuously and carbon black slagging continuously, no need to stop for reactor cooling down and carbon black slagging, it can be continuous working without stop for one month. For batch one, the process is feeding, then heating for start up, then oil production, then reactor cooling down, then carbon black slagging, and finally taking out steel wire from the reactor, each process has to start after the former process finished. But the investment of continuous pyrolysis plant will be higher, and it is more suitable for tyre processing capacity above 30ton.
If you are interested in buying a TDF production pyrolysis machine and learning more technology details, project cases, machine quotations, etc, please share more details about your requirements, then we can recommend the most suitable pyrolysis machine for you!
Leave A Message
Please feel free to leave your contacts here and your privacy is protected. A competitive quotation will be provided according to your detailed requirement within one business day.