What should be done to prevent continuous tyre pyrolysis plant problems?
Continuous tyre pyrolysis plant is designed for converting waste tires and rubber into fuel oil, carbon black and steel wire automatically. During the equipment operation process, there are some problems that should be paid attention to.
The first is the temperature control of the pyrolysis process. If the temperature is not strictly controlled as required, the oil gas cannot be completely converted into oil, and the tail gas content is greatly increased at the same time, thereby causing waste of resources. After the installation was completed, our engineer will train the workers to operate the equipment until continuous tyre pyrolysis plant project runs smoothly. In addition, we supply our customers the operation manual to help them check equipment and solve problems timely.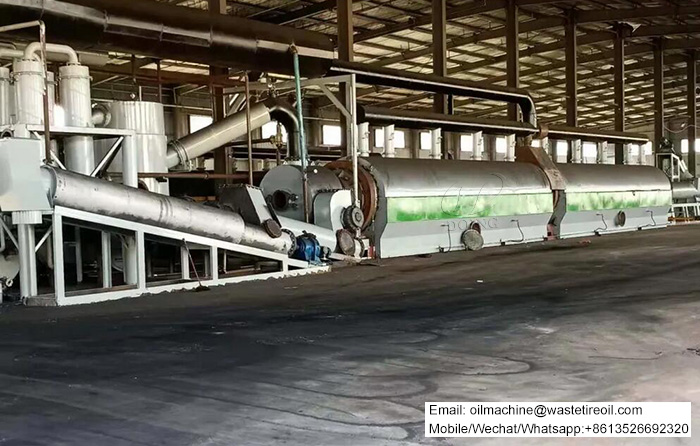 The reactor of continuous tyre pyrolysis plant
The second problem is the pollution control. Many customers told us they saw the thick black smoke from continuous tyre pyrolysis plant bought from other manufacturers, causing the complaints of the surrounding residents. So it is quite important to choose a continuous tyre pyrolysis plant with strict environmental protection system. DOING continuous tyre pyrolysis plant is equipped with advanced dedusting system, which can effectively dispose of 99.9% smoke. If there is a large amount of smoke in the pyrolysis process, you may check the condition of your furnace basement if it has a good sealing effect, the smoke does not completely enter the dust collector if your basement has any leakage. At this time, the basement should be modified according to the layout provided by the manufacturer. In addition, the draft fan should be opened before the pyrolysis, and it cannot be directly turned off after the pyrolysis is completed until the reactor is cooled.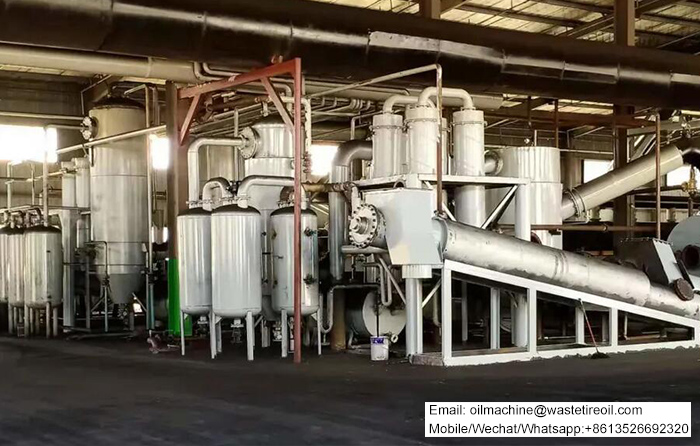 The pollution control system of continuous tyre pyrolysis plant
The last is unstable of the reactor. Under normal circumstances, this situation does not occur . Unless it is over loaded, overloading will lead the reactor to run unevenly. Therefore, the feed should be strictly in accordance with the requirements and cannot be overloaded.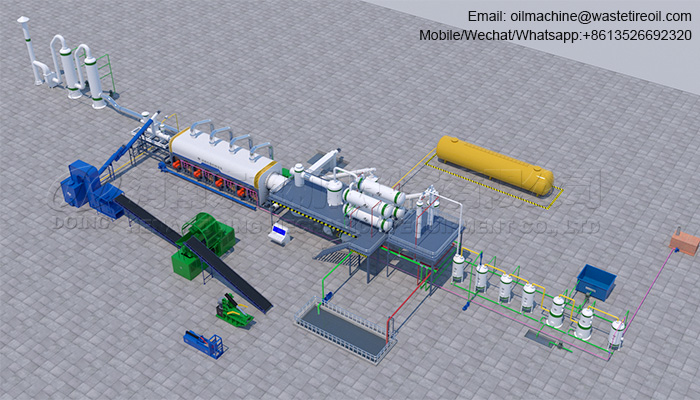 3D drawing of DOING continuous tyre pyrolysis plant
The above are the common problems that may happen in continuous tyre pyrolysis plant operation process. If you have interest in this equipment and want to know more details, contact us freely.
Leave A Message
If you wanna to get more details about continuous pyrolysis plant, you can send E-mail to market@doingmachinery.com. Or you can consult our professional engineers and specialized sales team by leaving a message in below form. We will contact you ASAP. You also can visit our factory in Henan, China.