How much capacity of pyrolysis machines does DOING Company supply?
As an experienced manufacturer of pyrolysis machines, DOING company supplies four types of pyrolysis machines, whose capacity varies from each other to meet various demands of customers.
1. Skid-mounted pyrolysis machines
The capacity of skid-mounted pyrolysis machines includes 100KG and 500KG per day; because all components of this pyrolysis machines are fixed on the container frame before shipping, you just need to do some easy work to ensure the machine's successfully running, such as the stable supply of electricity.
2. Batch-type pyrolysis machines
The capacity of batch-type pyrolysis machines includes 1tpd, 2tpd, 5tpd, 10tpd, 12tpd, 15tpd, 18tpd and 20tpd, which is a cost-effective scheme. It has good stability and multiple uses. In addition, batch-type pyrolysis machines are not picky on the form of raw materials, which can process tires, plastics, oil sludge, etc, directly.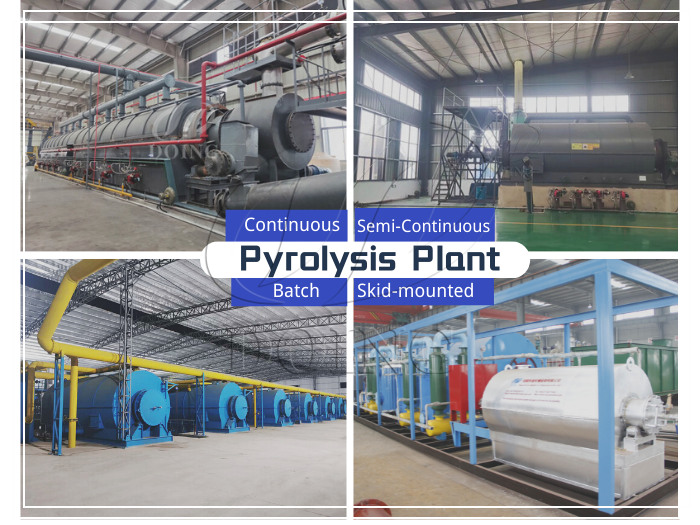 Four types of DOING pyrolysis machines for sale

3. Semi-continuous pyrolysis machines
The capacity of semi-continuous pyrolysis machines is the same as the batch-type pyrolysis machines, however, it needs to pre-process the raw materials. For example, waste tyres need to be processed into rubber powder between 16~18 mesh and oil sludge needs to be in a fluid state. But it also has a higher working efficiency because it can discharge carbon black without cooling while pyrolyzing.
4. Fully continuous pyrolysis machines
The capacity of fully continuous pyrolysis machines includes 15tpd, 200tpd, 30tpd, 40tpd and 50tpd, whose requirements for raw materials are also the same as those of semi-continuous pyrolysis machines. However, it adopts the newest technology and fully automatic PLC control system, which has larger processing capacities and can work continuously for nearly two months without pollution.
The capacities mentioned above are common capacities, DOING also can help customers customize the pyrolysis machines according to your processing capacity and investment scale.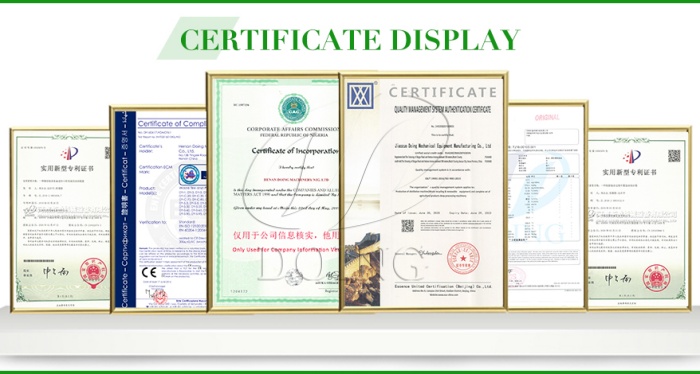 DOING obtained quality certifications

In summary, these four types of pyrolysis machines have their own advantages and capacities. DOING has researched pyrolysis machines for over 13 years and our machines have passed some quality certifications, such as GB/T, ISO, EU, CE and SGS.
If you are interested in pyrolysis machines, welcome to contact us, our professional technical team can offer you full services from scheme selection, machine customization to installation and operation guidance.
Leave A Message
Please feel free to leave your contacts here and your privacy is protected. A competitive quotation will be provided according to your detailed requirement within one business day.