What preparations are needed for starting a waste tire recycling business?
The waste tire recycling business is a really hot project for now. Many people have seen the considerable profit of pyrolyzing waste tires into pyrolysis oil, but do not know what preparations to start with. Doing company has mature experience in installing waste tire recycling business and we will share you the detailed preparations process: confirm final product market, find waste tire supplier, prepare plant land, purchase waste tire pyrolysiss machine.
First of all, confirming final product market is very important for this waste tire recycling business. Waste tires can be recycled and pyrolyzed into products such as pyrolysis oil, carbon black, steel wire and combustible gas. The combustible gas can be directly used for heating the reactor, saving the operating cost of the waste tire recycling business. Other final products have a huge market, and investors just need to find suitable buyers to achieve long-term supply.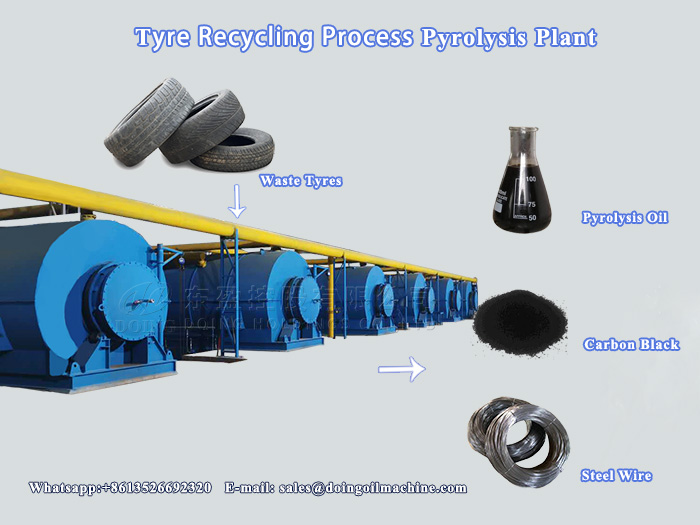 The product of waste tire pyrolysis plant
Secondly, finding the waste tire supplier is also important. As long as the raw materials can be kept constant supply, great benefits can be obtained from the waste tire recycling business. Waste tires can be purchased from garbage dumps and waste recycling stations. Some countries have even introduced policies to provide free waste tire raw materials.
Thirdly, preparing the plant land is very necessary to start this business. The investors can purchase or lease the land according to the requirements. The plant land had better to be big enough space to place the waste tire pyrolysis machine and build the basic function rooms. If you have no idea about how to plan the land, you can contact DOING and our professional engineer team can customize the plant drawings and plant layouts for you.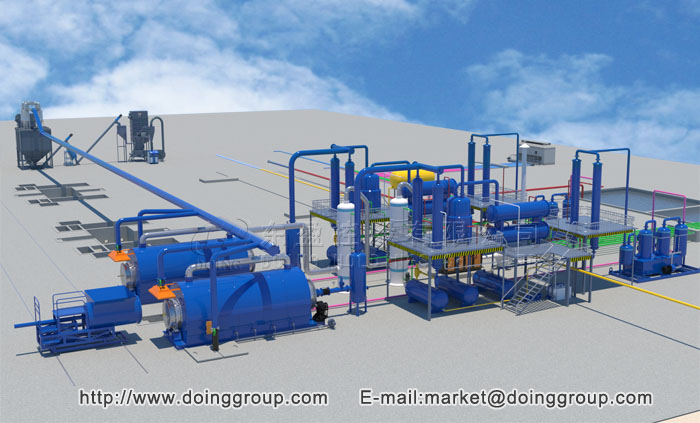 The 3D picture of waste tire pyrolysis plant
Last step is to purchase waste tire pyrolysis machine from professional manufactures. They can customize you high quality machine that can extract pyrolysis oil in waste tires effectively to help you obtain high profit. DOING's waste tire pyrolysis machine is the best choice.
DOING's waste tire pyrolysis machine could recycle the waste tire into fuel oil with a high oil output and without causing any pollution. With mature pyrolysis technology and advanced environmental protection devices, we have achieved pollution-free waste tire recycling for customers in more than 90 countries around the world. Welcome all the customers to contact us for free quotation!
Leave A Message
Please feel free to leave your contacts here and your privacy is protected. A competitive quotation will be provided according to your detailed requirement within one business day.