What are the safety measures for tyre pyrolysis plant?
No matter what project you do, safety is a priority. The same is true of tyre pyrolysis plant projects. The following is the safety measures for tyre pyrolysis plant made by DOING company, investors can rest assured to buy.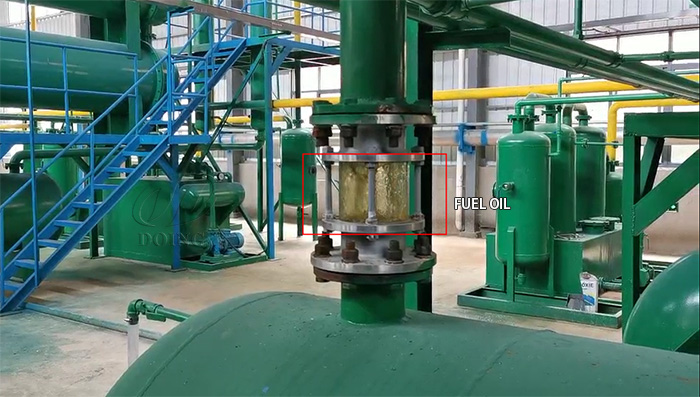 Tyre pyrolysis plant projects
DOING tyre pyrolysis plant usually operates at near zero pressure. In order to further ensure the stable operation of tyre pyrolysis plant, we are equipped with some following safety equipment.
Safety equipment for tyre pyrolysis plant
♦ Pressure valve and alarm bell
DOING tyre pyrolysis plant is equipped with pressure valves and alarm bells. Generally, the pressure value of the pressure valve is set to 0.3-0.4 MPa. When the pressure reaches this value, the alarm will sound automatically. If by any chance there is no person on duty, the pressure valve will automatically open to release the pressure inside the reactor.
♦ Oil-water separator
There is water in the oil-water separator, and the gas pipe is below the water surface. The oil gas will flow into the oil-water separator from under the water, so that due to the water pressure, the oil gas can no longer return to the reactor, which can prevent the oil gas from returning and avoid explosion.
♦ Water sealing device
The working principle of the water sealing device is the same as that of the oil-water separator, which is to prevent the exhaust gas from flowing back.
♦ Vacuum device
The vacuum device is a special device in our tyre pyrolysis plant, which can ensure that the entire equipment operates under negative pressure and avoid the danger of high pressure inside the equipment.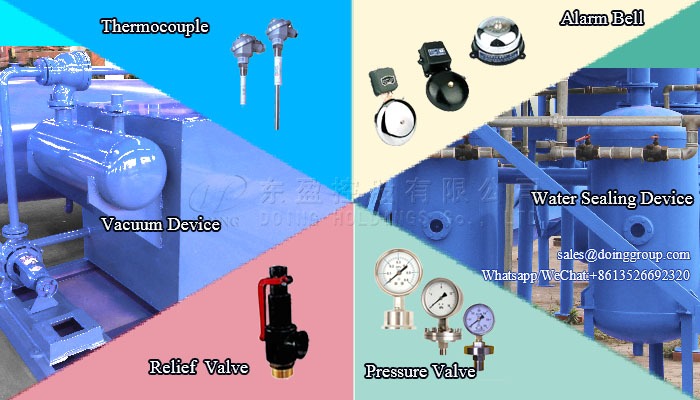 DOING safety equipment for tyre pyrolysis plant
In addition, there are relief valves, thermocouples and other small parts to ensure safety. To sum up, these accessories are designed and equipped by DOING Company to better ensure the safety of the tyre pyrolysis plant. If you have any questions about the safety measures of DOING tyre pyrolysis plant, please contact us directly.
Leave A Message
If you wanna to get more details about continuous pyrolysis plant, you can send E-mail to market@doingmachinery.com. Or you can consult our professional engineers and specialized sales team by leaving a message in below form. We will contact you ASAP. You also can visit our factory in Henan, China.