What type of diesel do you get from recycled tires?
Heavy diesel oil can be extracted from waste tires. Heavy diesel is a kind of diesel oil, which is widely used in heavy machinery, vehicles, ships and generators.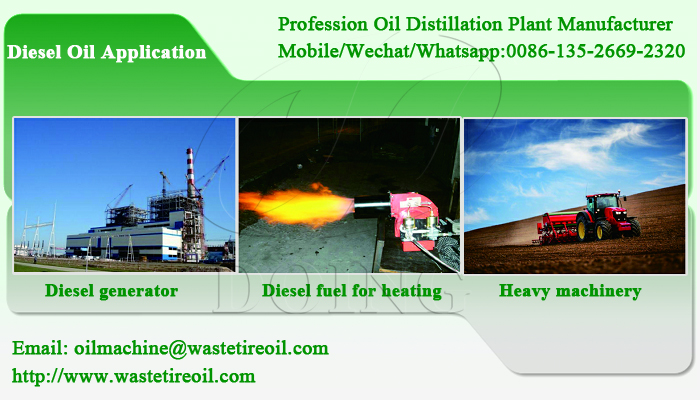 The heavy diesel oil application get from recycled tires
To get this diesel oil from recycled tires, two kinds of machines are necessary, waste tire pyrolysis plant and tire oil distillation plant.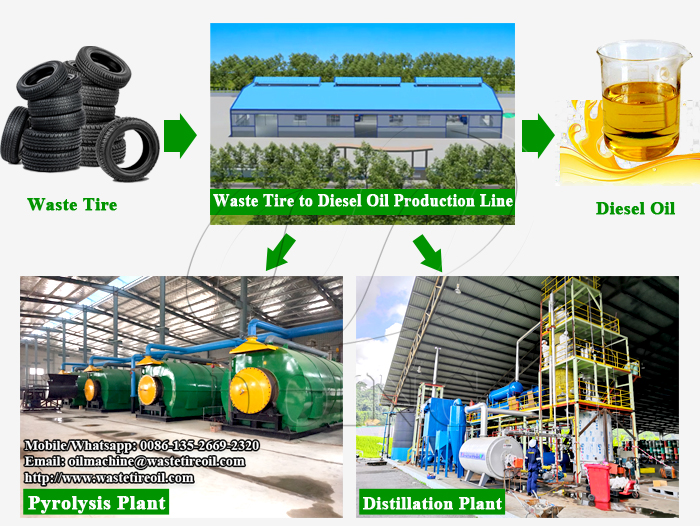 The production line for recycling waste tire to diesel oil
Firstly, get tire oil from recycled tires by waste tire pyrolysis plant. Under conditions of no oxygen and high temperature, waste tires can be converted into tire oil because of its components. The main components of tire is as following:
| | |
| --- | --- |
| Components of tire | Percentage |
| Carbon black | 28% |
| Csynthetic rubber | 27% |
| Natural rubber | 14% |
| Petroleum | 10% |
| Steel wire | 10% |
| Other petroleum products | 4% |
| Fiber and other ingredients | 4% |
So, in the final, four products can be produced, tire oil, carbon black, steel wire and uncondensable gas, among which the tire oil has the largest percentage, 45 - 50 percent. The tire oil is black-brown, can be directly used as fuel in steel mills and cement plants. , brick factory, etc.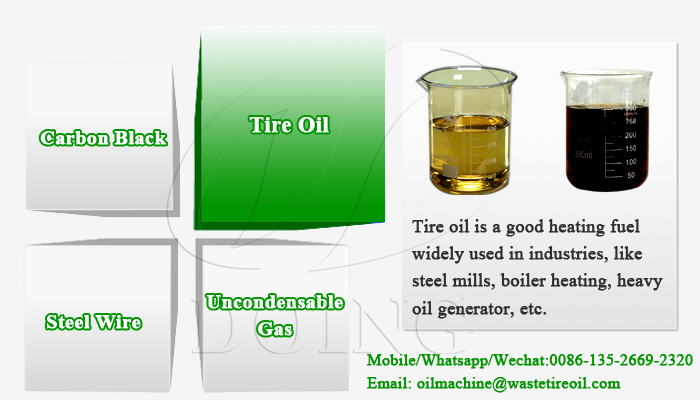 The products get from recycled tires by the use of waste tire pyrolysis plant
After getting tire oil, you can get heavy diesel oil from fuel oil by tire oil distillation plant. The tire oil distillation plant can convert tire oil to light oil gas by the anaerobic cracking technology, and then cool the oil gas to obtain the heavy diesel oil. Finally, the heavy diesel oil is further purified by the action of the catalyst to obtain the final heavy diesel oil which has light yellow color and more extensive uses in the industries. For this heavy diesel, we perform parameters testing through an authoritative testing agency. One of our Indian customer put the heavy diesel oil in his car and it runs fine.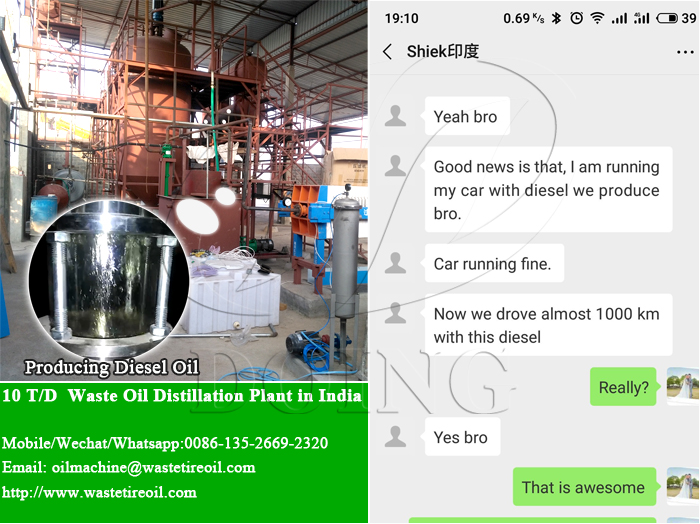 Feedback from an Indian customer about the heavy diesel oil
This is some basic information about heavy diesel get from recycled tires. If you want to know more about the heavy diesel, welcome to contact us and discuss further about it.
Leave A Message
If you wanna to get more details about continuous pyrolysis plant, you can send E-mail to market@doingmachinery.com. Or you can consult our professional engineers and specialized sales team by leaving a message in below form. We will contact you ASAP. You also can visit our factory in Henan, China.